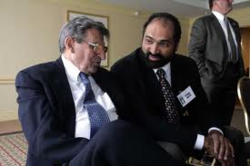 Franco Harris wants to explain in person to UCLA Chancellor Block why the NCAA sanctions on Penn State he helped approve are premature and unjust
Los Angeles, CA (PRWEB) August 27, 2012
NFL Hall of Famer Franco Harris, who played at Penn State for Joe Paterno, will be making a visit to the office of UCLA Chancellor Gene Block at 11 am on Tuesday August 28th. Harris, who was on four Super Bowl champion teams with the Pittsburgh Steelers, is intending to meet with Block to express his views regarding the NCAA's recent unprecedented sanctioning of the Penn State football program. Block is on the NCAA committee which approved the sanctions.
Harris, who has been an outspoken defender of Paterno and Penn State, has requested a formal meeting with Chancellor Block but has so far not been granted one. Harris intends to ask again for a meeting in person and, if he is rebuffed, will be leaving Block a letter he has written outlining his case for why the sanctions Block helped approve are premature and unjustified.
Harris will be at the Chancellor's office at 2147 Murphy Hall on the UCLA campus at 11 am. He will be available for brief media interviews after his attempt to visit with Block. He will then be traveling to UC Riverside to attempt to meet with Chancellor Timothy White that afternoon.
Any questions regarding this information should be directed to John Ziegler of http://www.FramingPaterno.com