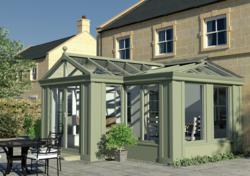 The conservatory market has changed, the Loggia is the new light and space solution
(PRWEB UK) 27 August 2012
KJM has added another product to its comprehensive conservatory, window and door range, the Loggia Conservatory from market leader roof manufacturer Ultraframe
The Loggia conservatory combines 'the very best of British building excellence with a helping of Italian inspiration', Loggia takes its name from a roofed gallery or recessed room open to the air on one side and supported by ornate columns, developed by 'architectural visionary' Filippo Brunelleschi during the Italian Renaissance period.
Described as a 'cross-over' extension product, Loggia can be entirely personalised to blend in with the homeowners existing property, lifestyle and budget. From its well-crafted roof to a number of new features including integrated panel heaters, the product features solid plastered walls for 'superb' thermal performance that according to the manufacturers Ultraframe, can compete with traditional extension structures.
Joe Martoccia, sales and marketing director at Ultraframe said: "Loggia is a game-changer, no question. This is the first innovation to come out of this industry that not only shapes the future of the conservatory market but critically opens up the extension market that was previously not accessible to our industry. We believe that it is essential for our industry to seek new markets and develop new products in order to survive.
"Fundamentally the conservatory has not evolved for 30 years. Our research suggests that the modern consumer is looking for better styling, a degree of individualism and more importantly a structure that becomes part of the house 365 days of the year, so usability is paramount.
"Loggia does that. Not only will it attract traditional conservatory customers but critically, it will open up the market to home owners wanting all the benefits of a traditional extension at a much lower cost, and without the hassle and red tape associated with extensions. We believe that the market for single storey extensions in the UK is in excess of 100,000 units; that's bigger than the conservatory market and our industry has the ability to capture a large slice of this.
KJM managing director Mark Pearce said "The conservatory market has changed, the Loggia is the new light and space solution and gives homeowners another option. Thanks to the excellent thermal properties, this is a conservatory that can compete with an extension"