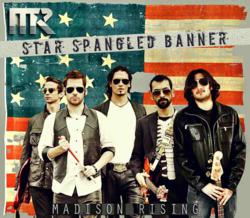 We created Madison Rising to help restore a sense of pride back into this country, and we're really glad it's having that effect.
(PRWEB) August 26, 2012
Patriotic rock band Madison Rising is pleased to announce that it has reached over 500,000 views on YouTube, and is well on its way to achieving its goal of one million views by Election Day (November 6th).
"Thank you to all our friends in the media for continuing to give us the exposure we need to make sure our message reaches the people that need it most – veterans, patriots, all the younger people out there and anyone else still proud to call themselves Americans," said Madison Rising lead singer Dave Bray, a Navy veteran. "Thank you to all the fans who've watched it, shared it and for all the beautiful and absolutely touching comments, emails and calls we get every day about the Banner and all our other music. We created Madison Rising to help restore a sense of pride back into this country, and we're really glad it's having that effect."
Earlier this summer, Madison Rising released a distinctive and widely acclaimed rock version of the Star Spangled Banner, updated with a special addendum to reflect our nation's struggles at the dawn of the 21st century. Madison Rising's rendition is currently #1 in several key musical categories on Amazon.com and the band itself has launched its One Million Star Spangled Banner Challenge (http://www.starspangledbannerchallenge.com). The Challenge offers Americans a fun and meaningful way to show their patriotism by watching the band's new video and downloading their rendition of the National Anthem directly to their iPods and other devices to play proudly in their cars, at the gym, at the beach or anywhere else they want.
In addition, the band has recently partnered up with The National Anthem Celebration Foundation (http://www.osaycanyousee.org) regarding their mutual goal of increasing public awareness, education and appreciation for our National Anthem and celebrating the song that identifies us as the land of the free and the home of the brave. Madison Rising will be performing at the Charmed City Music Festival on September 15th at a concert dedicated to our military and the celebration of Defender's Weekend in Baltimore.
Madison Rising promotes the principles of liberty, independence, smaller government and personal responsibility. Their mission is not only to make great music, but to also send a message that American culture is alive and well. Madison Rising is currently recording its second album and has a major Kickstarter project underway (http://www.kickstarter.com/projects/1533684542/madison-rising-the-new-album-and-american-tour) to finance production of the album and lay the groundwork for a national tour. The band encourages its fans to join them in their mission and become a true part of the Madison Rising team.