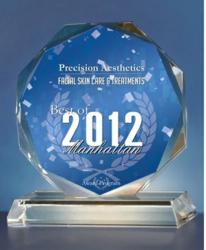 we are very proud and even more excited for our next revolutionary introduction coming mid September
(PRWEB) August 28, 2012
Each year, the Manhattan Award Program identifies exceptional companies focusing on quality, based on the information gathered both internally and by third parties.
This indeed was a busy month of recognition for Precision Aesthetics. This accolade was received on August 9th , August 10th, Dr Lisa Zdinak' appeared on CBS, Katie McGee's show The Couch, and a mere few days later Dr Zdinak was the subject of a full page feature story in Social Life Magazine, not to mention being included in Marquis Who's Who in America.
It probably should not come as too much of a surprise considering Dr Lisa Zdinak's annual pilgrimage to the Monte Carlo Anti Aging Congress where she has sourced and introduced to New York no less than 19 new technologies counting ugrades and exclusive offerings from US companies like Thermage as well. Amongst her many unique offerings at Precision Aesthetics is PRP the usage of your own growth factors as fillers. Exilis skin tightening from Czech Republic as well as being New York's only Thermage Black Diamond and Pinnacle Award winner. Precision Aesthetics is also New York's exclusive distributor of Ultraceuticals, Australian's leading doctor dispensed skin care line as well as her very own line of skin care vitamins, Genetiskin . "Nonetheless we are very proud and even more excited for our next revolutionary introduction coming mid September" commented Dr Zdinak
Precision Aesthetics is located at 10 West 74th St, just steps off of Central Park West, where Dr Zdinak caters to the cosmetic anti aging needs of her clientele consisting of celebrities, International as well as every day New Yorkers seeking leading edge non invasive natural solutions to maintain their youthful appearance.
Although recognized as Manhattan's premiere Thermage treatment provider, additional offerings include Exilis non surgical body shaping, Carboxytherapy for dark under eye circles and stretch markes, Silkpeel Vitamin dermal infusion, Cryotherapy and Ultrasonic facials, IPL, Genuine Dermaroller from Germany, both in office and at home versions, Facial Mesotherapy as well as her own personal line of skin vitamins genetiskin.