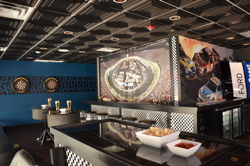 (PRWEB) August 28, 2012
The Man Caves team was able to complete the transformation in a little less than three days, just in time for the beginning of August Race Week.
Among the amenities that Cameron and Siragusa and their crew of designers and carpenters added were several fully stocked mini-refrigerators, a host of comfortable leather chairs and couches, recessed track lighting, and full-length wall murals of historic BMS scenes. Cameron and crew made sure to include several strategically placed giant-screen televisions so that guests could relax in style while not missing a second of the NASCAR or other racing action. They also included several checkered flag accents to indicate that the completed room is, indeed, a winner!
The result of all the work was a guest suite that certainly meets Executive Producer Mike Stafford's goal of making over the suite so that "other people, sitting in the other suites this weekend, will look over and be extremely jealous."
Photos of the results can be found on the DIY TV Man Caves website at http://www.diynetwork.com/man-caves/show/index.html. Full episodes are also available online at the same URL. Man Caves airs at 10pm/9pm Central.
With headquarters in Florida and distributors and installers throughout the United States and select overseas locations, Decorative Ceiling Tiles.Net is the online leader in the sales of decorative ceiling tiles.