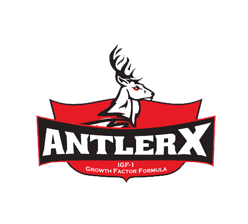 AntlerX offers customers a high quality, concentrated product, otherwise unavailable in the current market.
Portland, Oregon (PRWEB) August 26, 2012
First made popular by traditional Chinese medicine, deer antler velvet has gained recent interest as a natural source of the muscle enhancer, IGF-1. AntlerX has taken these properties and concentrated them into a simple and convenient spray formula.
The Benefits of Deer Antler Velvet in a Bottle
Although deer antler velvet has been available as a training supplement for quite some time, most of these have contained a relatively small amount of this important ingredient. AntlerX has pushed the limits to provide its customers with a concentrated, quality-tested product. With 100 milligrams per bottle of deer antler velvet, AntlerX.com products offer the highest concentration on the market.
In addition, AntlerX contains zinc, niacin, and an assortment of essential amino acids along with its active ingredient to help the body increase its muscle mass and level of performance output. Zinc functions as a recovery aid during training and allows muscles to return to a rested state, while niacin is included due to its ability to increase the flow of blood to the muscles as well as increasing the absorption of important nutrients. Finally, amino acids such as L-Glutamine are important in keeping muscle aches and discomfort to a minimum after workouts, thus allowing for more training and less time needed for recovery
The IGF-1 Effect on the Body
IGF-1 works within the body to increase muscle mass by allowing the muscles to recover faster from a workout and therefore, return to a state where they can continue to work at a high level. This can also aid with the shedding of fat, joint stability and heighten the ability to perform in endurance activities.
As a natural method of enhancing IGF-1, AntlerX is not a steroid and is a legal method of supplementing a training regimen. Since the deer antler velvet formula does not increase muscle mass directly, but instead provide a faster recovery that allows for more training, AntlerX functions to provide the opportunity for athletes to go beyond their typical limits to increase their strength.
The Highest Concentration of IGF-1 Enhancer without the Need for a Prescription
AntlerX saw that other products were falling short in offering the best combination of performance and convenience and set out to design a product to provide customers with the best of both worlds. AntlerX delivers the highest allowable concentration of deer antler velvet with an easy method of administration. Rather than fussing with expensive alternatives such as prescriptions or injections, AntlerX recommends customers purchase their spray bottles to use twice daily for optimal performance.
ABOUT ANTLERX
Created specifically to aid athletes involved in all types of high-intensity training and bodybuilding, AntlerX offers customers a high quality, concentrated product, otherwise unavailable in the current market. Through its 90 Day Money-Back Satisfaction Guarantee and discounts on purchasing in bulk, AntlerX attracts customers both experienced and new to the world of IGF-1 enhancement supplements. To purchase AntlerX and read more about their product, head over to http://www.antlerx.com/.