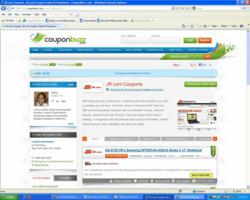 Name brands with a history of high quality electronics mean a lot to consumers when it comes to cameras...
Houston, TX (PRWEB) August 26, 2012
A sweet deal on a new digital camera via the new JR.com coupon recently featured by CouponBuzz.com is causing some excitement in the online shopping world. The JR.com coupon offers $60 dollars off the standard retail price of a 16 mega pixel Panasonic DMC-SZ1 LUMIX digital camera, dropping the price to the budget-friendly $99.99. The deal is only valid for a limited time, and can be found in CouponBuzz.com's special section dedicated to JR.com coupon codes and special offers.
"Finding a high-quality digital camera like this for under a hundred bucks is a steal," enthused Justin Bowen, a spokesperson for CouponBuzz.com. "Name brands with a history of high quality electronics mean a lot to consumers when it comes to cameras, and rightly so. It is rare to see any Panasonic camera sold at such a discount, and this JR.com coupon is a definitely a deal not to be missed."
Interested shoppers can learn more about the specifics of the special offer via the featured link at the top of the JR.com coupon section at CouponBuzz.com. The Panasonic LUMIX digital camera is a sweet little pocket-sized gem barely bigger than an iPhone but loaded with tons more picture-taking power. The ultra slim design is only 0.9 inches thick, 3.9 inches long, and 2.4 inches wide, that fits easily in a pocket or small purse. However, it still manages to boast a 3.0 inch 230K-dot LCD screen that makes focusing and reviewing images simplicity itself.
The Panasonic DMC-SZ1 LUMIX camera also offers the incredible 16 mega pixel quality for all the images it shoots, and as well as shooting HD video in 720 x 1280 and in MP4 format. In addition, it boasts a powerful 10x optical zoom, unusual in a camera so small, which shoots in ultra-wide angle. In addition to being super light-weight and boasting a long lasting Li-ion battery, the Panasonic LUMIX adds to its incredible travel utility with USB power charging in addition to the conventional AC power supply.
The camera includes a host of special features, including Panorama shot, Miniature Effect, and High-Speed Burst Mode. The perfect way to capture action shots and rapidly moving targets, high-speed burst mode shoots frames at approximately 10 FPS with 3-megapixel resolution. The Panasonic LUMIX camera utilizes convenient SD/SDXC media, and a speedy Venus engine that enables its rapid response time. Full specifications and access to the JR.com coupon link are available at CouponBuzz.com in the JR.com section, located here http://couponbuzz.com/jr.com-coupons.html.