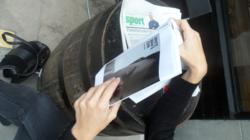 Sometimes you get lost and you tend to lose focus with a crew of more than five people.
New York, NY (PRWEB) August 27, 2012
Shooting has started on Stephen Lloyd Jackson's latest Move Sable Fable. Love, hate, the pursuit of fame, self indulgence, sex and race.
This August has seen Jackson and his tiny crew no more than six persons, ("The Collective") start principal photography on his latest movie entitled 'Sable Fable'. Sable Fable is a beautiful story exploring the complex psychology of love, sex and ethnicity through three very different couples whose lives intertwine with each other through a series of unfortunate events. Shooting has been in progress for the past two weeks. Jackson always likes to get his exterior shots in the can first.
Last Friday was the end of the first week of shooting the interior scenes. Jackson said he didn't want to 'over-bake' it, but the "Collective" got some lovely shots in the can.
For this project, Jackson has chosen areas in London which are very familiar to him and where he grew up. They include Balham, Tooting, Clapham Common, Brixton and Oxford Street in Central London. Jackson has decided to have a skeleton crew on board, only consisting of a cinematographer, sound recordist, assistant director, make - up artist and himself. The cast out numbers the crew three times over. But that doesn't seem to phase Jackson, as he says he wants to shoot this piece in a unique way and with raw energy. "Sometimes you get lost and you tend to lose focus with a crew of more than five people." This is a very daring project, in terms of the movie's theme. But as Jackson moves on with each film in the 'sex & race' trilogy, he declares that he wants to be even more audacious with the subject matter.
Sable Fable will wrap in September. In October it will embark on a four month edit with more than four editors already signed up to the project. Jackson isn't taking anything for granted. He hopes to shoot more than a thousand hours of footage.