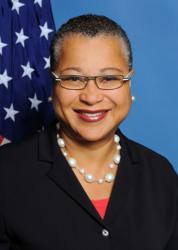 Ms. Anderson inspired the nearly 200 member audience to re-think their role in supplier diversity. Corporate members responded to the notion that they needed to advertise the presence of minority owned products on their shelves. Ken Clark, CEO MD/DC MSDC
New Haven, CT (PRWEB) August 28, 2012
Marie Johns, Deputy Administrator for the Small Business Administration and Maggie Anderson, author of the Empowerment Experiment are the featured keynote speakers on Friday, September 14 at the Greater New England Minority Supplier Development Council (GNEMSDC) Business Opportunity Fair and Expo. The event will take place at Foxwoods Resort and Conference Center.
Marie C. Johns is Deputy Administrator of the U.S. Small Business Administration (SBA), where she is responsible for management of the agency and development of SBA programs and policies. Johns was nominated by President Obama on December 17, 2009, and confirmed by unanimous consent in the Senate on June 22, 2010
Under the Deputy Administrator's leadership, SBA had a record year in 2011, supporting more than $30 billion in lendingto more than 60,000 small businesses across the country. That is the most capital going to small businesses in the history of the SBA. As the economic recovery takes root, Deputy Administrator Johns is focused on ensuring that entrepreneurs in underserved communities have the resources, relationships, and tools they need to start businesses and create good-paying jobs. She also works closely with President Obama's most senior advisors at the White House to ensure that more federal contracts are awarded to small businesses. In addition to other duties, the Deputy Administrator has the privilege of serving as the chair of the President's Interagency Task Force on Veterans Small Business Development.
Author and MBE activist, Maggie Anderson has agreed to be the keynote speaker on Friday, September 14 at the GNEMSDC Sponsors Luncheon. Mrs. Anderson has become a national advocate for minority businesses as a result of her work on the "Empowerment Experiment". The experiment started as a teaching lesson for her children and family, and turned into a crusade as she and her family attempted to survive by buying products only from African American owned enterprises. Her story has been picked up by PBS, Black Enterprise, CNN, CNBC, The Huffington Post and has attracted attention globally. Mrs. Anderson has also become a powerful advocate for corporate supplier diversity.
The GNEMSDC is a 501 c-3 corporate business membership organization committed to growing business relationships between large public and private sector corporations and certified MBEs. The GNEMSDC is the regional affiliate of the NMSDC, and covers the six New England states of MA, NH, VT, RI, CT and ME. The GNEMSDC has over 200 corporate members and certifies over 400 MBEs.
The Greater New England Minority Supplier Development Council (GNEMSDC) annual Business Opportunity Fair and Expo will take place at the MGM Foxwoods from Wednesday, September 12 through Friday, September 14. The program features nationally renowned speakers and business professionals, one on one meetings between corporate buyers and attendees, 20 minute presentations by both corporate members of GNEMSDC and certified Minority Business Enterprises (MBEs), and networking receptions.
For more information about the GNEMSDC and the Business Opportunity Fair and Expo, visit http://www.gnemsdc.org.