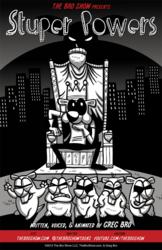 Los Angeles, CA (PRWEB) August 29, 2012
Gone are the days when a video's hit count was a measure of the time, energy, and talent put into the YouTube video, if it ever truly was. Talented content makers like 'Stuper Powers' creator Greg Bro struggle more and more to not get buried under the steady barrage of videos. From shaky iphone pranks to big blockbuster teasers, the competition for viewership is steep and nobody knows that better than comedy filmmakers Daily Fiber Films. That's why they use their series 'Daily Fiber Presents' to unearth some comedy gold and hand deliver it to their audience. If you love comedy and have ever felt compelled to share a video with friends, then you will understand.
"We know how hard we've worked to build over 25,000 subscribers and still get modest numbers for the category we're in", says Raymond McAnally of Daily Fiber, "so it truly bothers us to see guys we respect and find talented not seeing even a modest return of their own. This we cannot abide". Dude, and abide they do not, dude.
'Daily Fiber Presents: Stuper Powers' marks the fourth presentation in the series. The first two led to partners William Philbin and Mark Nickelsburg coming on board full time at Daily Fiber Films. These guys stand behind their endorsements.
Also, the 'Stuper Powers' presentation marks a first for Daily Fiber- animated comedy. "This is our first animated anything", says William Philbin of Daily Fiber, "and if we did animation, I think it would be like Greg's. I mean its high quality and pro, but the guy still loves a good fart joke. The world needs that."
When asked if they had a goal for presenting Greg to their audience, Mark Nickelsburg responded, "to drive as much traffic as we can to Greg at TheBroShow. As long as we put in our best effort, like it's one of our own, then we've done all we can. It's not a sprint, it's a marathon... with Chipotle fart jokes... I should go now".