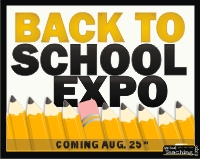 We are so very proud of our family of teacher shops who participated in this event. They generously donated some of their original teaching resources to their fellow teachers.
Freehold, NJ (PRWEB) August 27, 2012
Teacher Authors from the teacher resource site, Teachers Notebook, gave away more than $150,000 in original teaching resources as part of the Back To School Expo that launched August 25th 2012 on TeachersNotebook.com.
In order to help teachers, TeachersNotebook.com and TeachingBlogAddict.com launched a crowd-funding campaign through IndieGoGo that raised enough contributions to cover the cost for over 800 teachers to participate in this professional development opportunity.
As co-founder Debbie Esemplare notes, it is important for teachers to work together towards improving the nation's education system: "Contributors to the campaign gave the gift of training, inspiration and time! With school budgets being cut across the country, a lot of teachers are left to fend for themselves in order to obtain professional development."
The Back to School Event at Teachers Notebook includes pre-recorded presentations that cover a wide range of pertinent topics, from "Reading Success " (with Annie Moffatt from The Moffatt Girls), "Technology Tools" (with Cara Whitehead from Teaching…My Calling) , "Classroom Decorating 101" (with Melanie Ralbusky from Schoolgirl Style), "Classroom Environment and Back to School Procedures" (with Eric and Brian from Wise Guys) to "Creating a Fun Math Environment with Math Journals" (with Yvonne Crawford of MixMinder).  By creating a virtual event, Teachers Notebook has successfully facilitated the sharing of tips and tricks from teachers around the world in a way that is convenient to both presenters and attendees in keeping with the busy schedule of educators.
Because events are pre-recorded, teachers who want to attend the expo are able to do so when it is convenient for them.  They are also be able to attend where it is convenient since all of the video presentations will be accessible through the Teachers Notebook website and can be viewed on computers and tablet devices.
Over 55 teacher authors are participating in the virtual Vendor Hall for the expo. They are each offering 30% discounts on some of their most popular items. The majority of teacher authors have also contributed a free item for each attendee that totals more than $180. Any one teacher or educator who purchases a ticket on the Teachers Notebook site and attends the expo between August 25th and September 1st can take advantage of this amazing offer from their fellow teachers.
"We are so very proud of our family of teacher shops who participated in this event,", said Steve Esemplare, Co-Founder of Teachers Notebook. "They generously donated their original teaching resources to their fellow teachers, resources that they spent countless hours designing, creating and testing, and gave them to their fellow teachers". The original teaching resources with a retail value of over $180 were given away to 848 teachers who received a free ticket to the event. "What makes this special to us, is that these teacher shops are joining with us, side-by-side, to help their fellow teachers – it's teachers helping teachers!"
Teachers Notebook
Teachers Notebook is a venue for teachers to share original teaching resources with their peers from around the world. Teachers Notebook gives educators access to resources that they can use in their classroom and allows them to save an enormous amount of time and money. Teachers who create and offer items for sale to their peers keep 100% of everything they sell. They worked hard to create them, refine them and test them. At Teachers Notebook, we believe that the educator who created the item should get the entire profit of a sale, not a company or venue. http://teachersnotebook.com
Teaching Blog Addict
Teaching Blog Addict's goal is to create a fun, online community for teachers, tutors, mentors, home educators and parents. We at Teaching Blog Addict love teaching and want our students to love learning. We provide readers direct access to teaching blogs and professional development filled with creative teaching tips and fun educational resources http://www.teachingblogaddict.com
Contact
Steve Esemplare
Teachers Notebook
Phone: 732.305.0023
Email: steve(at)teachersnotebook(dot)com