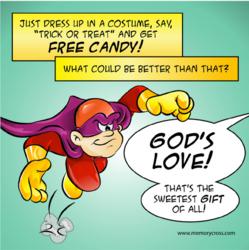 Cool!! What a unique, well thought out way to share Jesus with nonbelievers. - Lori.
Jamestown, NC (PRWEB) August 28, 2012
Memory Cross has created a magical tract for trunk or treat and trick or treat that shares the Gospel while capturing the attention of children and adults. The card looks like a regular card but upon closer examination it opens up to reveal another set of images and folds two more times before going back at the beginning.
The design along with the brightly colored super hero captures the attention of children. The message presents the Gospel in a positive way that children can understand and on the back panel there are links to Need Him for more information on becoming a Christian.
Trunk or Treats are becoming more popular as people look for safe alternatives for their children. The majority of trunk or treats are hosted by churches and can attract large numbers of kids from the local community. Memory Cross created this tract so that churches could have something for trunk or treat that presents the Gospel in a fun and creative way.
The cards are available in packs of 24 for $12.97 and are on sale through September 15th on the Memory Cross website.
About: Memory Cross creates origami style cards to share the Gospel, teach children Bible stories and help memorize Scripture. Products include coloring cards, tracts that are used at home and on mission trips and Scripture cards that help children and adults memorize Scripture.