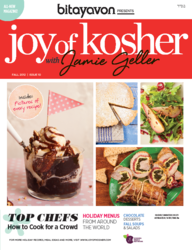 We're looking forward to combining the best columns and content from Joy of Kosher and Bitayavon magazine to provide a truly superior product that will better serve both the reader and the Jewish magazine industry.
New York, New York (PRWEB) August 27, 2012
Kosher Media Network has announced that Bitayavon will be merging with Joy of Kosher with Jamie Geller magazine. The result is a multi-featured bi-monthly Jewish food and lifestyle magazine that is the only one of its kind on the market.
The new magazine will keep the Joy of Kosher with Jamie Geller title and continue to feature Jamie's trademark warmth, straightforward approach and highly acclaimed recipes, but will also incorporate Bitayavon's signature style, showcasing new food trends, gourmet cooking and its pioneering approach to focusing on seasonal foods.
"We're looking forward to combining the best columns and content from Joy of Kosher and Bitayavon magazine to provide a truly superior product that will better serve both the reader and the Jewish magazine industry." says Jamie Geller, founder and Chief Creative Officer of Joy of Kosher magazine. Joy of Kosher with Jamie Geller and Bitayavon Magazine proudly featured some of the best kosher food writing, kosher recipes and food photography available anywhere.
"Not only does this merger combine editorial talents, it also creates a publishing team with entrepreneurial experience. Both Shlomo and I look forward to working with Jamie and sharing our vision of upscale food with the readers of Joy of Kosher," says Shifra Klein. Shlomo Klein and his wife Shifra are co-founders and co-publishers of Bitayavon.
"As the print division of Kosher Media Network began to take off, we realized that we needed partners in this endeavor, both to keep up with the growth we were experiencing and also to give us the ability to grow the magazine from an overnight sensation into an international success story. Shifra and Shlomo are exactly the people we needed to take Joy of Kosher to the next level," added Jamie Geller.
A Kosher Media Network publication, Joy of Kosher magazine released its first issue to rave reviews in April 2011. Jamie Geller's two best-selling cookbooks, Quick & Kosher Recipes from the Bride Who Knew Nothing and Quick & Kosher, Meals in Minutes had already made her a household name. She quickly gained a devoted following as cooks everywhere fell in love with her approachable personality and her simple, yet impressive recipes. Her companion website, JoyofKosher.com, is the largest and most popular kosher food and recipe website in the world.
Bitayavon launched in February 2011 and made impressive strides in the magazine world, recognized and awarded by the prestigious Magazine Innovation Center as one of the hottest new magazines of 2011. While the magazine focused on upscale cuisine and catered to kosher "foodies", both serious and casual cooks have been enjoying its more modern take on kosher food as well as the many recipes and insightful articles that fill its full color glossy pages. From the latest food trends to affordable recipes and meal ideas, Bitayavon revolutionized the concept of a kosher cooking magazine in the eighteen months since its initial debut.
By consolidating the two titles under one banner, advertisers wishing to target the lucrative and growing kosher market will benefit greatly, according to Henry Kauftheil, the visionary Chairman of Kosher Media Network and architect of the merger.
"One plus one equals #1!" says Kauftheil. "One unified voice will be a stronger voice for the industry. This fusion also eliminates duplication and overlap in distribution. Now advertisers have the ability to reach more readers much more cost effectively, not just in print but online as well. It's a winning combination all around."
A centerpiece of the Kosher Media Network, the new Joy of Kosher with Jamie Geller magazine will offer the best of both publications, showcasing foods that are delicious, yet easy, as well as gourmet trends and twists on traditional Jewish recipes. The newly launched magazine is a must-read publication for foodies everywhere.
By taking advantage of the Kosher Media Network's diverse multimedia platform, the Joy of Kosher brand will continue to grow in popularity with an all new magazine, television and internet broadcasting, a dynamic online website and live events all over the world.
Kosher Media Network also announced a limited time discount subscription offer for Joy of Kosher with Jamie Geller magazine, more details are available at: http://www.joyofkosher.com/magazine/.