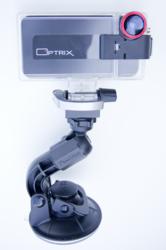 Malvern, PA (PRWEB) August 28, 2012
SportHiTech is pleased to announce the immediate availability of the Optrix XD Motorsports Bundle. This adds a super-duty suction cup mount to the rugged, waterproof and milspec Optrix XD Wide Angle case for the iPhone 4 and 4S.
The new bundle includes the full Optrix XD package, including flat and curved mounts and the Optrix case and sled itself, a world-class suction cup mount and a standard tripod mount (1/4-20) adapter, opening up many new mounting possibility for the Optrix system.
The innovative Optrix XD has been hailed as the new paradigm for action sports cameras, bringing unique features that cannot be matched by traditional rivals in the action camera space, such as immediate video uploading and publishing as well as on-camera editing and integrated telemetry.
The Optrix XD Motorsports bundle is available at SportHitech here for $129.99.