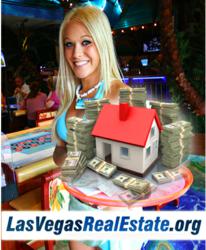 Las Vegas Real Estate Investors May Be Getting Best National Return On Investment Buying In Today's Market
(PRWEB) August 26, 2012
Las Vegas real estate has gone thru 5-years of bad media as the #1 foreclosure market in America to emerging as the most talked about opportunity for savvy real estate investors. With the lowest prices in 20-years CNNMoney states that nowhere are potential profits better than in Las Vegas…"investors in Las Vegas who rent out the properties they buy now will have a higher return than the national average.". LasVegasRealEstat.org backs Trulia research naming Las Vegas as the #1 real estate market in America for price-to-rent ratio attracting record sales as buyers and investors looking for immediate cash-flow properties.
Ashley McCormick of Realty One, Nevada's number one Las Vegas real estate company, says that Las Vegas owes an unrecognized amount of its success to the service industry. Earlier this year at "Preview Las Vegas 2012" it was predicted that Las Vegas would have a record year for tourism of 40-million visitors and positive growth. While the low airfare and affordable luxury resorts get them to Las vegas, it's the service industry including bellhops, valets, waitresses, bartenders and concierges that make there stay unparalleled in experience. For those investing in Las Vegas homes for sale and condos for rentals, it's this same industry that make up a large part of the rental population filling their rental properties.
McCormick says that Las Vegas is a unique market in that investors have a built in pool of renters who make cash every night. Las Vegas escorts, strippers, cocktails waitresses, valets, bartenders and other service industry providers have proven to be great renters. McCormick says it's common that service providers do not claim all their tips making it difficult to quality for a loan to purchase, yet they can afford to rent Las Vegas luxury high rise condos or homes. She says it's not uncommon that experienced investors forgo a credit report because they know their tenant can make rent in a few nights work.
According to the annual tourism report the average Las Vegas tourist spent more and stayed longer in 2010 and 2011, a positive sign for the city's tourism industry. With the average cost of a vacation package in 2010 at $651 and holding thru 2011, Vegas may be the best deal for travel and entertainment. Visitors stayed an average of 3.6 nights and 4.6 days, both of which are up accounting for a stable inventory of renters. With the new the new "Terminal 3" International terminal open at McCarren airport, and estimated 40-million visitors, Vegas is stabilizing itself as one of the safest real estate investment markets.
With online property search, pictures and virtual home tours, more local buyers familiar with the area along with repeat foreign investors are shopping online. LasVegasRealEstate.org allows potential investors or home buyers to set parameters and sends alerts once a new listing or Las Vegas foreclosures comes up in that area. When they find a property they wish to acquire they can contact McCormick by email or by phone to write the contract. McCormick says it is common practice today for the entire process from loan documents, appraisals, and home inspection reports to be sent by email.
McCormick recommends online buyers at least make one trip to Vegas before jumping on the internet buying band wagon. She says that while most out-of-state buyers may choose a property management company after the purchase, many locals are successful renting themselves thru Craigslist to save fees and increase profit margin. McCormick cites individual investors claiming that escorts, strippers, cocktail waitresses, ect. may even offer a higher-security deposit or extra month in advance as an intensive for selection. Individuals with questions or concerns about Las Vegas real estate for sale can contact Ashley McCormick direct at 1-888-920-2292. current MLS listings of over 15,000+ Las Vegas homes for sale and condos for sale can be viewed at http://www.LasVegasRealEstate.org