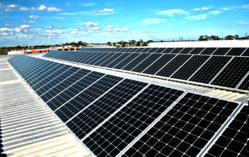 For many companies, the fact that energy costs have increased by multiples over CPI in recent years, is something that they have until now had no ability to control, but are no longer prepared to take lying down.
Melbourne, Victoria (PRWEB) August 28, 2012
More and more commercial enterprises are taking the initiative and turning to solar energy in Australia as a means of reducing their ever increasing cost of power, as well as improving their eco-friendly credentials. CJ Pearce, an Industrial Electrical Contractor situated in Victoria and led by owner Murray McCulloch, is a forward thinking company doing just this by installing a new 20kw rooftop installation on their head office/warehouse in Melbourne's Sunshine West. http://www.cjpearce.com.au
CJ Pearce have decided that the long term certainty solar power will give their business moving forward is both the peace of mind and the competitive edge they need. The Australian federal government has recently launched its 'Clean Energy Future' campaign and released a total of approximately $13 billion spread across various renewably energy and eco-efficiency initiatives. But the question is - how do normal business owners and commercial property owners or lessees access any of this money?
CJ Peace partnered with Australian owned and operated solar provider Sun Connect to find the best mix of subsidization and solar electricity installation - to make a meaningful and financially appealing switch over to cleaner, and in the long run much cheaper, electricity. Utilizing the experience, components and financial model supplied by the award winning solar installer Sun Connect, CJ Pearce has undertaken the 100 panel rooftop installation to insure their bottom line against future electricity price rises and against the on-charging of carbon tax into their grid-supplied power bills. The expected output from the solar system should cover almost all of their average yearly usage - the more electricity they can generate from their own clean, rooftop source - the more they are insured against inflationary pressures.
Mr McCulloch's reason for being so forward thinking when it comes to being amonst the first Victorian businesses to see the proverbial solar light at the end of the electricity bill tunnel?
"My main reason to do the solar install was the future increase on energy prices and the increase in my buildings value if I were to sell. I believe I now have a $100,000.00 asset on the roof that I can ask a premium for as depending on consumption and output it can generate a modest income to potential purchasers of the property."
ISO9001 Quality accredited suppliers, importers and installers of commercial grade solar components, Sun Connect, have been at the forefront of the commercial installation market for some time. Details of the company can be found at http://www.sunconnect.com.au
CEO Mark Tuke, stating, "We are seeing an ever increasing number of companies taking steps to cover what is a major outgoing to most and with the prices of solar dropping dramatically recently, this has been made an easy, relentlessly logical choice. They are still getting the same thing - the electricity they need - but over a given timeline it is not only much cleaner, it is also much more cost-effective. How can business's not turn to solar if it ticks both of those boxes?"
"For many companies, the fact that energy costs have increased by multiples over CPI in recent years, is something that they have no ability to control and are no longer prepared to take lying down." Mr Tuke added that making the switch to solar is no longer in line with the common misconception of requiring a large capital outlay and waiting for several years for the return thereafter, but often a nearly cashflow-neutral proposition from the get-go, if geared correctly. If they pay off a system at the same amount each month but they get around the same replacement electricity - where is the out of pocket expense to deter them from doing this? We call this 'grid parity." This is considered the holy grail of renewable energy providers across the globe and the main driving factor that has seen much more mature renewable energy markets in countries like Germany, Italy and Spain."
Although renewable energy is a tried and tested energy technology overseas, Australia has been slow to uptake this option due to historically cheaper fossil fuel energy costs and a lack of education or publicity. With fossil fuel generated energy prices rising and renewable energy grid parity becoming a reality, we will soon see a dramatic increase in solar (photovoltaic) installations throughout Australia's commercial and manufacturing industries. Something to look forward to, and CJ Pearce's leading example is helping not only their own cause but the cause of clean, efficient electricity production.