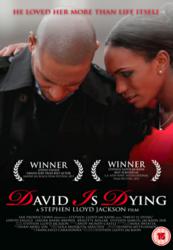 David Is Dying DVD - Coming soon!
New York, NY (PRWEB) August 29, 2012
The countdown is on for the DVD release of the multi award winning movie 'David Is Dying'.
After a year of touring the world, David Is Dying ('DID') will soon be released on DVD. SAR Productions, in conjunction with Amazon, will be announcing the release date within the next few weeks.
The DVD will contain the powerful 90 minute movie, exclusive interviews with the award winning producer, writer, director Stephen Lloyd Jackson and award winning cast members Isaura Barbe – Brown, Brigitte Millar and 2011 American Black Film Festival 'Best Actor' Lonyo Engele.
Unlike the film's festival screenings, the DVD has an upgraded edit and music score. The colors have been revamped and the film also went through a three month sound customization. As a result, this indie flick has incorporated a 5.0 surround sound that can be enjoyed in its entirety.
David Is Dying is the first installment of Jackson's 'sex and race' trilogy. This DVD is sure to be a must see intense film. A daring psychoanalytical piece which, depicts the theme of promiscuity and HIV in urban London.
For the first time in US film history, 'DID' swooped two grand jury gongs at the 2011 Black American Film Festival' Lonyo Engele for 'Best Actor' & Stephen Lloyd Jackson for 'Best Director'.
The DVD will be available to order in all territories throughout the world on NTSC and PAL.