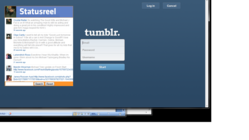 Philadelphia, PA (PRWEB) August 27, 2012
Facebook has been widely used by people from all over the world; not only to search friends, make new friends or a means of communication. It has been used as well in promoting products, services and events.
With Facebook chat and Facebook status, users have all the chance to reach with other people which can be helpful in increasing online visibility. Being able to chat with them, they would have a thorough discussion and more intimate conversation especially when they are talking with their loved ones who are away from them.
Facebook statuses allow the users to express and tell everyone about how they feel and what they think at a specific moment. Some users do not only post emotions, they also post trivia and other relevant information based on their field of interest.
Tumblr, on the other hand, aside from it's a social networking site, it is a microblogging site as well which allows its users to post anything from multimedia to a short blog which is known as tumblelog. Having a Tumblr account, user has the visibility of other Tumblr users' blogs and shares their blogs to others as well. With this, they get the chance to share their thoughts and their ideas.
Statusreel has created a new way in making social networking more interesting. By merging Tumblr and Facebook Status feed on the Tumblr website, users can integrate Facebook status feed that are relevant to their Tumblr account. Having access to Facebook status in their Tumblr accounts, they can also find new friends from Facebook and invite them to their Tumblr account.
With Facebook status feed in Tumblr accounts, users can get ideas from the statuses of Facebook users whenever they write an entry about a specific topic. With Statusreel Facebook Status feed, users have the option to search for a specific topic. Then, users will only view all statuses in relation to such topic only. Statusreel is able to trim down statuses for facebook to the desired topic of the Tumblr user. Integrating Facebook status on the Tumblr account also makes the website more interesting, fun and informative.
Statusreel was able to determine different categories of status on facebook. Currently, there are 21 categories to choose from. Users have the option to view the real time feed of all status, or the real time feed of a specific status category. Categories range from Funny Status to Pickup statuses.
About Statusreel
Statusreel.com is an application designed to provide users a real time feed of Facebook Statuses online. Users have the option to view specific theme of status, from funny status to emo status and to all the other 21 categories of status in facebook. Statusreel real time feed of status maybe embedded to a website – a status box or widget, absolutely free!