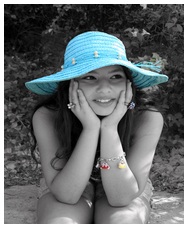 The studio became a hit throughout the country and it's well known in its niche industry
Kedar, Israel (PRWEB) August 28, 2012
Michal's Camera photography is thrilled to announce studio innovations and equipment upgrades towards the end of the year 2012. The studio at 150 Achva Street is located in a small town called Kedar - center-east at the heart of Israel. Michal's Camera photography has upgraded a new camera's equipment set and a new website.
Michal's Camera photography studio started as a small home based business. At the beginning, in 2008, the work was preformed using basic equipment in the house's living-room and back yard. Thanks to the unique methodology and the special editing techniques, the end results begged people's attention. Costumers loved the pictures and were excited about the final product. Slowly people started to be more interested – the business was advertised solely from word-to-mouth and the rumor of a great Bat-Mitzvah photographer spread out.
With growth in demand, the need for a real studio space and professional equipment was mandatory. The business grew into a very unique home studio, including professional equipment such as: proper lighting, soft boxes, studio backgrounds, clothes and many small accessories. Moreover, the final product became much more professional with the DSLR canon EOS 40D camera upgrade and other set of small cameras with backup equipment.
The studio has become a hit throughout the country and it's well known in its niche industry. Lately, Michal's Camera has done various upgrades to upscale the studio and the environment. As mentioned before, the new equipment – a new DSLR canon EOS 60D camera and then the new elegant and user friendly website: http://www.michalscamera.com.
Make sure to visit the new website. Share, link and comment as you wish.