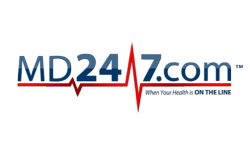 MD247 Reviews Business Travel Options.
Tampa Florida (PRWEB) August 27, 2012
Largo Florida telemedicine specialist MD247 debuted its interim travel healthcare option for the Republican delegates visiting Tampa for the 2012 Republican National Convention.
The MD247 interim travel healthcare option deviates from the "all-encompassing" MD247 Talk to a Doctor program in that it is designed to give non-MD247 members the chance to ensure that their business travel goes off without a medical hitch. This is accomplished by providing interested travelers 24/7 access to board certified medical professionals via telephone 24/7 from the moment the trip starts and ending at midnight on the final day of the journey. Each traveler in the business party has equal access to the certified medical professionals and, if a set of symptoms escalate to the point of a prescription being needed, MD247 can even make that happen. All of this is available for a single payment of $9.95, and MD247 takes care of the fees typically incurred when a patient call escalates from a registered nurse to a board certified doctor. That means that MD247 will pay fees of around $35.00 directly out of their pocket, leaving a patient just the price of his or her antibiotic prescription at the local Wal-Mart or CVS. The service is meant to provide peace of mind, and ensure that precious memories are made.
Largo Florida based MD247 (MD 247; MD/247; M.D. 247; MD247.COM) provides discounted telemedicine healthcare services nationwide to families, and discounted wholesale telemedicine healthcare to businesses. MD247 has successfully provided 25,000 people the ability to talk to a doctor twenty-four hours a day, talk to a nurse twenty-four hours a day, receive discounted prescription drugs and receive discounted in-person healthcare services. In addition to discounted healthcare services, MD247 provides support to groups supporting the employment of veterans of the United States Armed Services. MD247 services, as well as informational blogs, can be found for review online at http://www.md247.com.