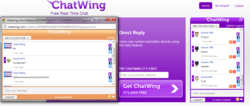 Los Angeles, CA (PRWEB) August 28, 2012
Chatwing's enhanced chat widget has more features that aid social network expansion and real time global connectivity among its users. Thousands of 9gag aficionados will now have an efficient platform where they can easily share links, funny rage comics and other sensational issues with one another. Based on Chatwing's research, 9gag has a fast growing number of followers and contributors, thus Chatwing team has upgraded the user capacity of the chat app to 1000.
Aside from easy global interaction with 9gaggers and other web surfers, Chatwing's free shoutbox can help increase one's site traffic and improve online presence. Like the simplicity of 9gag site, users can easily understand how the chat tool works and how it can be installed. There are only few simple steps to accomplish before a user can start chatting away with friends and acquaintances.
Chatwing's free chat box also has high customization feature that allows users to alter the color, size and title of the chatbox to fit the site's theme. Online users can also choose the chat tool's form or how it will appear in the blog; options are pop-up window, direct link URL or as regular shout box. The direct URL style gives the user the control to chat with only his chosen 9gaggers or bloggers. The direct URL option also provides a unique username and some shortlinks. The user can share the shortlinks in his Facebook or Twitter account.
Chatwing team has also incorporated the social media integration feature. This feature lets anyone with a Facebook and Twitter accounts to take part in any chat group without hassle. Sensational 9gag photos or hilarious rage comics can be shared easily to Facebook and Twitter contacts, which in turn contribute to increased online presence.
Chatwing dev team promises to continue upgrading the free shoutbox to cope up with the niche bloggers' changing needs, especially in terms of achieving efficient real time interaction and connectivity.
About Chatwing.com
Chatwing.com specializes in the new field of website chat. Over years, the Chatwing team has introduced live chat box for hundreds and thousands of blogs. The Chatwing application bridges people from many parts of the world, creating global synergy through the Internet. The shout box can be installed in just seconds, and it can be used for varying purposes such as leisure and Internet marketing. It also allows a user to customize the size, color, and name of the widget. Chatwing is 100% free for everyone.