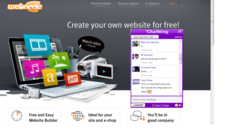 Miami, FL (PRWEB) August 28, 2012
Chatwing team is proud to introduce its developed and improved free chat widget to Webnode community; Chatwing redesigned the chat app based on intensive research and studies revolving around the need to increase online visibility and greater connectivity. Chatwing development team added new features to the free chat box to provide online users with a more satisfying chat experience. Chatwing team also made it possible for web surfers to interact real time with a thousand chatters globally without decreasing the chat tool's efficiency.
Chatwing's free chat app has a social media integration feature that addresses a Webnode user's need to expand his social networks and thus increasing online presence. The social media integration feature allows Facebook and Twitter users to join in any chat discussions easily by logging in with their account details. This is a great opportunity for new bloggers to add these chatters to their own Facebook and Twitter accounts and initiate a more worthwhile connection. For users opting for privacy or does not want to share their social media account info, they can still log in as guests.
To maintain consistent communication with new friends and site visitors, it is advisable that a Webnode blogger embed Chatwing's free shout box to his website or blog. The chat tool has a simple interface, making installation simple and easy. As a matter of fact, it would only take less than a minute to install this chat app to one's site. Chatwing's chatbox is highly customizable, too. From color, size, title, to form, a user has the liberty to choose how the chat app will appear on his site in order to maintain image consistency or for functionality purpose. The chat widget's most flexible form is the direct URL link feature that permits a blogger to generate his username and shortlinks. An online user can send the generated shortlinks to chosen contacts to start a more focused chat.
Chatwing team is committed to bring Webnode users and other bloggers a highly effective chat application that changes with the online users need. The team is also looking forward to a better online communication that can help thousands of bloggers across the Internet.
About Chatwing.com
Chatwing.com specializes in the new field of website chat. Over years, the Chatwing team has introduced live chat widget for hundreds and thousands of blogs. The Chatwing application bridges people from many parts of the world, creating global synergy through the Internet. The shout box can be installed in just seconds, and it can be used for varying purposes such as leisure and Internet marketing. It also allows a user to customize the size, color, and name of the widget. Chatwing is 100% free for everyone.