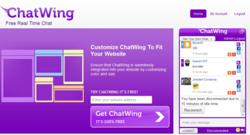 Chicago, IL (PRWEB) August 28, 2012
New Wordpress bloggers, whose concern is to improve their online presence, can now rely on a free chat widget created by Chatwing dev team. The reliable chat box can hold thousands of chatters—perfect for a dynamic and real time interaction. Wordpress niche bloggers, on the other hand, can control interaction through Chatwing's latest feature - direct URL link option. The direct URL link is developed for a more private and focused chatting experience to aid niche bloggers with a more targeted online demographics.
Installing this enhanced and free chatbox to a Wordpress blog is simple and easy. The user can accomplish just four steps in installation and in no time, he can start efficient, real time communication globally. Chatwing's shoutbox is also compatible to most blogging platforms. To start, a user must visit Chatwing's website and register awebsite or blog domain. The next step is customization. Chatwing's free chat box allows the user to alter the widget's color, size and title. There are three available forms to choose from: regular chatbox, pop-up window and direct URL link. For online users who have targeted readers and aims to create a group, the direct link URL style is perfect for their purpose. To finally install Chatwing, the user can copy the HTML code provided and embed it to the site.
For Wordpress bloggers whose aim is to expand their social media networks, Chatwing team has included the social media integration feature to the new chat widget. This feature allows Facebook and Twitter users to engage in any chats by just logging in with their social media accounts. Chatwing users can also use cool emoticons and avatars for a more fun and enjoyable real time interaction.
Chatwing dev team recognizes the need for an efficient and reliable communication tool online in the Wordpress community and for other emerging blogging communities as well. To strengthen this business goal, the Chatwing team is planning to introduce new developments to the web chat box.
About Chatwing.com
Chatwing.com specializes in the new field of website chat. Over years, the Chatwing team has introduced live chat widget for hundreds and thousands of blogs. The Chatwing application bridges people from many parts of the world, creating global synergy through the Internet. The shout box can be installed in just seconds, and it can be used for varying purposes such as leisure and Internet marketing. It also allows a user to customize the size, color, and name of the widget. Chatwing is 100% free for everyone.