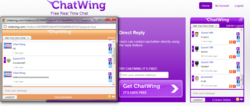 Portland, OR (PRWEB) August 29, 2012
Chatwing's free chat widget now offers more social networking features and options that address user control and communication advantages. Webnode bloggers focusing on web development will benefit from the changes made to the free chat box. Its easy installation and high customization mechanisms make Chatwing's shoutbox ahead from other chat applications available on the net.
The World Wide Web is proven to be one of the most important inventions of man. The web has become an important platform of communication and information that benefited individuals, groups and countries. New professions have spawned from the advent of the World Wide Web such as bloggers and web developers. Webnode, a site which offers web platform has a growing number of web developer bloggers that share important information about web design. Through information exchange, it is useful to have a free chat widget installed on blogs to facilitate interaction between bloggers and site visitors.
When it comes to real time communication, Chatwing's free chat box has been noted to be used by most online users because of its simple interface and easy installation mechanism. Embedding the chat application in one's site only takes 20- 30 seconds with an easy to follow procedure. Users can also customize the free chat app by altering its size and color. Online users can also choose which chat widget form best suit their need: regular chatbox, pop-up window or direct URL link style. The direct URL link form is the newest addition to the chat tool's forms. It is the most flexible style because it allows a user to invite selected web surfers for a more private and focused chat. It is possible through sharing the shortlinks generated after choosing the direct URL feature.
For Webnode web developer bloggers who wanted to communicate to a larger crowd, Chatwing's improved chatbox can handle up to a thousand chatters globally. Its social media integration feature opens up opportunity for social network expansion since users with Facebook and Twitter accounts can easily access chat discussions.
To further enhance one's online visibility, users can maximize the social sharing application of the chat app; this allows easy sharing of important chat conversations to one's social media account, thus keeping it active and updated with useful insights or facts.
The Chatwing team is aware that there are a lot of free useful tools online that helps boost online presence and connectivity. To help bloggers at a better rate, the Chatwing team is planning to have strategic expansions across different blogging communities.
About Chatwing.com
Chatwing.com specializes in the new field of website chat. Over years, the Chatwing team has introduced live chat widget for hundreds and thousands of blogs. The Chatwing application bridges people from many parts of the world, creating global synergy through the Internet. The shout box can be installed in just seconds, and it can be used for varying purposes such as leisure and Internet marketing. It also allows a user to customize the size, color, and name of the widget. Chatwing is 100% free for everyone.