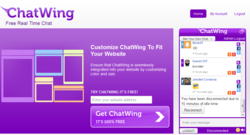 Seattle, WA (PRWEB) August 29, 2012
Chatwing's latest version of its free chatbox has additional features that cater to social network expansion. Typepad bloggers who aim to boost their site traffic or to simply create new relationships online will find the free chat app handy. One thing common with Chatwing's free chat widget and Typepad is that they both operate in a very simplistic mechanism. Both can be used easily and are efficient for communication purposes.
Installing Chatwing's free shoutbox to a site has helped boost its online visibility. The installation process is uncomplicated and will only take a few seconds. After accomplishing the four easy steps, which already include the customization, user is ready to connect to more web surfers and bloggers globally. Customization includes altering the size, color and title of the free chat app to seamlessly fit to the existing blog's theme. Chatwing team expanded the options by giving online Typepad users a choice on what widget style they would use for their blogs- regular chatbox, pop-up window or direct URL link form.
In terms of interactive and real time communication, Chatwing's chat widget can be relied on; despite of its simple interface, it can hold up to a thousand users without affecting the chat process. On the other hand, if the user wants to engage in a small group chat or a more selective chat, the direct URL link was developed for this purpose.
Another useful addition to Chatwing's improved chat box is the social sharing option which allows user to easily share important chat conversations and keep their social accounts active. Some Facebook and Twitter marketers have also begun using the Chatwing app to strengthen their campaigns and find new leads along the way.
Aside from the Typepad community, the Chatwing team is looking forward to reach out in forums, podcast websites, and even message boards. Chatwing developers clearly understand the need for online communication everyday.
About Chatwing.com
Chatwing.com specializes in the new field of website chat. Over years, the Chatwing team has introduced live chat widget for hundreds and thousands of blogs. The Chatwing application bridges people from many parts of the world, creating global synergy through the Internet. The shout box can be installed in just seconds, and it can be used for varying purposes such as leisure and Internet marketing. It also allows a user to customize the size, color, and name of the widget. Chatwing is 100% free for everyone.