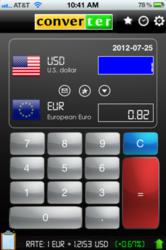 Elk Grove, CA (PRWEB) August 27, 2012
California based Shoreline Animation, creator of some of the top-ranked travel related mobile apps has a solution. It comes in the form of an iPhone app that eliminates guesswork from the equation.
The iPhone currency converter app, priced at $0.99 offers several features that make currency conversion effortless. For one, the app can convert between 58 currencies. These include the US Dollar (USD), Euro, Australian Dollar(AUD), Argentine Peso(ARS), Indian Rupee(INR) and others.
Since users who convert currencies generally tend to convert between the same two currencies barring exceptions, the app includes the Save to Favorites feature. This enables frequent converters to quickly click on the conversion of choice and read the current exchange rate.
The other useful feature that helps frequent currency converters is a display of the history or trend of fluctuating exchange rates in the past. Users can quickly access the exchange rate on a previous date and compare how they have changed. This feature often helps users come to an informed conclusion about the best date to transfer money or convert currency.
While the app is useful in selecting specific pairs of currencies and determining the conversion rates at any given time, it is also useful in converting a given amount to various currencies simultaneously. So, if an American tourist in Europe wanted to know how much his dollar would buy him in France, Italy, Greece and UK that day, he would only have to look up this screen on his iPhone to view a full list of exchange rates. 
About the company: Shoreline Animation is a prolific developer of mobile apps, many of which rank among the top apps in their respective categories. Popular apps include Airport Monitor, Universal Orlando Maps and Guides and a number of language translation apps. The company's web offerings include a website dedicated to free ecards, personalized photo cards and free printable birthday cards. Gotfreecards.com has hundreds of free cards and ecards designs for various occasion