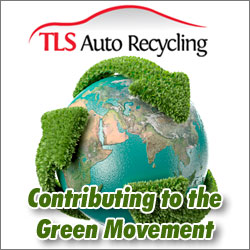 Show your care by Recycling your Junk Car
Sacramento,CA (PRWEB) August 27, 2012
Junk car owners now have a great opportunity for getting rid of their junk cars. Rancho Cordova Wrecking Yard, TLS Auto Recycling has offered to promote and sponsor a new Meetup Group: Junk Car Removal.
Along with earning quick cash while clearing the driveway of unwanted debris, selling a junk car is good for the environment. When selling a junk car, the car will be stripped for all recyclable parts. Instead of just having an unused and unwanted junk car sitting in the driveway, a junk car removal company like TLS Auto Recycling will recycle the car for other uses. While selling an old car, it is also helping to contribute to the environment through recycling. It requires 75 percent less energy to recycle old metal than it does to produce new metal, which is obvious proof that selling your junk car is good for the environment.
The Junk Car Removal Meetup Group has organized an upcoming event for any Toyota Junk Car Recycling on September 17th 2012.
About TLS Auto Recycling
TLS Auto Recycling is at the forefront of the northern California auto recycling business. Specializing in auto parts for the Toyota, Lexus, or Scion driver, TLS Auto Recycling is renowned for its high rate of client satisfaction and customer-oriented business philosophy. A leader in the green industry and in environmentally friendly business practices, TLS uses only clean and undamaged parts that undergo rigorous in-house testing.
Click to Register for Junk Car Removal Event
Contact Information for TLS Auto Recycling:
Customer Service
TLS Auto Recycling
info(at)alltoyotalexusparts(dot)com
(877) 247-1717
http://www.alltoyotalexusparts.com