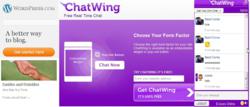 Boston, MA (PRWEB) August 29, 2012
Blogging for advocacy has been around for many years already, based on the numbers of blogs created for this purpose. Different advocacies comprise the Internet, attracting many participants across the globe. Chatwing, a company known for creating chat apps, has decided to extend help to thousands of advocacy blogs in the Wordpress community. The company has extended its help by launching a new chat widget that can help bloggers interact with their visitors in real-time. The chat tool has received mostly positive reviews from other blogging communities.
To begin with, the Chatwing chatbox has a simple user interface. The user just needs to register his blog or website's domain. After that, he can proceed directly to the customization process; from there, he can select from three widget forms: actual shoutbox, pop-up window, or direct link option. These three forms allow a higher form of visibility and have enticed a lot of bloggers lately. Also, the installation process of the free chat box takes only less than a minute, saving the blogger's time. In a Chatwing chatroom, up to a thousand users can discuss various topics.
The Chatwing team has explored different blogging niches before, yet the company believes in the power of online advocacy. In a simple keynote, Chatwing's free shoutbox can speed up blog interaction. By providing a micro-chatroom in any blog, the visitors will be able to post their inquiries and comments directly. This is quicker, rather than waiting for blog comments which may take days to be answered. Also, Chatwing's new feature: the direct link option, allows bloggers and web surfers to have private group chats in a regular basis. This is effective for online advocacy campaigns where people can discuss how they can help the needy.
Chatwing, with its array of developers, is willing to help people gain proper online communication leverage. The Chatwing team is planning to introduce the free chatbox to different advocacy sites in other online sectors--this is a part of Chatwing's rapid expansion move that will occur in the following months. To keep users well-informed, the Chatwing team is also maintaining a Facebook page that discusses the important points of the chat app.
About Chatwing.com
Chatwing.com specializes in the new field of website chat. Over years, the Chatwing team has introduced live chat box for hundreds and thousands of blogs. The Chatwing application bridges people from many parts of the world, creating global synergy through the Internet. The shout box can be installed in just seconds, and it can be used for varying purposes such as leisure and Internet marketing. It also allows a user to customize the size, color, and name of the widget. Chatwing is 100% free for everyone.