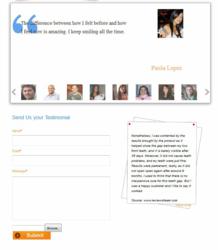 Ottawa, ON (PRWEB) August 27, 2012
Orthofill, the leading provider of non-invasive teeth gap solution, now offers clients a chance to get exposure online through the Orthofill review. Ortho bands have revolutionized solutions to fix gap in teeth. With Orthofill, approximately 175,169 teeth gaps have been closed that proves its effectiveness as an alternative to braces. With the large number of clients Orthofill has helped, many of them have been waiting for the chance to be featured to convey gratitude.
Orthofill review will provide potential customers, who visit the website for the first time, security that ortho bands are completely safe and effective. Reviews on how Orthofill has changed the lives of people who suffer the humiliation and low self-esteem brought by teeth gaps and braces. They will be featured on Orthofill Success Stories page where they can tell inspiring stories about themselves and Orthofill.
Here are four easy steps to be featured on Orthofill:
1. Fill out the form at the bottom of the page at http://www.orthofill.com/testimonial.html.
2. Write your testimonial message about how Orthofill helped you.
3. Submit before and after image.
4. Send in perfect smile photo.
Orthofill will make sure to publish the testimonials and will get a chance to be picked and featured on the homepage. Orthofill review through success stories will create a positive impact not only for clients who get featured but also for the company itself. Orthofill can solidly establish their reputation as a credible dental company that produces effective teeth gap solution.
Orthofill keeps their client feel secure on each purchase through its 100% Money Back Guarantee. This is to uphold the company policy of providing a risk-free package that ensures satisfaction of clients.
For more information on how Orthofill can treat diastema in just 30 days, visit http://www.orthofill.com.
About
Orthofill is a company owned by Clicking Labs, Inc. that started in May 2010.With dedication and perseverance; they were able to bring together a team of multi-talented individuals to provide the world with creative and interesting marketing strategies to drive success to its clients. It has stations in Ontario, Canada and Cebu, Philippines.
###