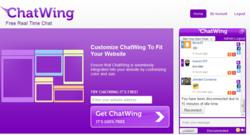 New York, NY (PRWEB) August 30, 2012
Chatwing is now continuing its strategic step in the Wordpress community by introducing a global chat box meant to help bloggers interact with visitors effectively. Wordpress event bloggers can use Chatwing's simple chat app to gather opinions and suggestions from their visitors. Additionally, Chatwing's chat tool can also raise a blog or website's visibility by a certain percentage.
The Chatwing chatbox is filled with simple but useful features such as social media integration, multiple chatbox forms, easy customization process, and full admin control. Installing the Chatwing app also takes only few seconds, depending on the user's preference. The three Chatwing form factors available are actual shoutbox, pop-up chat window, and direct link URL. The recent version of Chatwing's free shout box also has a visitor capacity of 1000, allowing multiple users to chat simultaneously.
Before introducing all of these features in Wordpress, the Chatwing team has studied the activity of hundreds of blogging niches. After a careful deliberation, the dev team has noted that event blogging in Wordpress is truly a growing niche, especially if there are global events that can be discussed. These events generate streams of visibility for a blog, and can be improved with the help of Chatwing's free chat box. Podcast blogs and websites are also viable places of strategic expansion, according to the developers of Chatwing.
To show their dedication to blogging communities, Chatwing's developers are always maintaining their chatrooms. In this way, users can send inquiries and questions in real-time. Chatwing's main site also has an embedded chat box where users can share their ideas and suggestions. Questions will be answered as quickly as possible, and occasional embedding tips will be shared by admins.
About Chatwing.com
Chatwing.com specializes in the new field of website chat. Over years, the Chatwing team has introduced live chat widget for hundreds and thousands of blogs. The Chatwing application bridges people from many parts of the world, creating global synergy through the Internet. The shout box can be installed in just seconds, and it can be used for varying purposes such as leisure and Internet marketing. It also allows a user to customize the size, color, and name of the widget. Chatwing is 100% free for everyone.