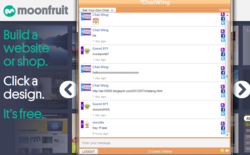 Dallas, TX (PRWEB) August 31, 2012
Chatwing, a development company skilled in making chat apps, has announced the launch of its latest chat box meant for bloggers and web surfers in Moonfruit community. The latest Chatwing tool still retains its simple interface, yet its speed has doubled, and it can now accommodate up to 1000 users in real-time. Moreover, the Chatwing app has a social media integration feature that allows users to log in with their Facebook and Twitter accounts.
Moonfruit is known for its professional website building tools; additionally, this website creator also has a large collection of templates that can be used for different website designs. Moonfruit subscribers can install Chatwing's free shout box in few easy steps. The chat app can also be customized, and three shoutbox forms are available for all users. In the dashboard, users can now add unlimited number of chat boxes--a useful step if many blogs are maintained regularly.
Chatwing's free chat box is all about proper blog interaction. Through an improved interaction, a blog can gain high streams of online visibility. Based on the research of Chatwing, Moonfruit bloggers who have used the chatbox saw visibility improvements in their blogs. This happened in just few days of continuous usage and persistent blog marketing. Many of these bloggers have also benefited a lot from Chatwing's versatility; visitors were able to send Facebook and Twitter invitations to each other, expanding their social networks. Company bloggers reached out to many people with the help of the Chatwing chatroom.
Persistent web communication is one of Chatwing's main goals. The developers believe that this can only be achieved by creating a dynamic chat platform that will be recognized by many users across the world. This is the reason why Chatwing's developers are working hard in tweaking the platform and introducing new upgrades along the way. To relay more information, the Chatwing team is also maintaining an updated Facebook page.
About Chatwing.com
Chatwing.com specializes in the new field of website chat. Over years, the Chatwing team has introduced live chat widget for hundreds and thousands of blogs. The Chatwing application bridges people from many parts of the world, creating global synergy through the Internet. The shout box can be installed in just seconds, and it can be used for varying purposes such as leisure and Internet marketing. It also allows a user to customize the size, color, and name of the widget. Chatwing is 100% free for everyone.