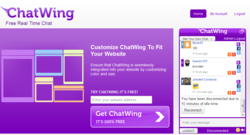 Los Angeles, CA (PRWEB) August 31, 2012
It might appear simple on its appearance but Chatwing's latest free chat box is advanced in more ways than one. Chatwing development team added new features that aid social network expansion, global connectivity and website chat. This developed chat widget can be installed in any blog or website that allows customization. The widget's size and colors can be altered based on the preferences of the user.
Chatwing's free chat widget, with its social media integration feature, easily allows more chatters to partake in any chat activity by just providing their Facebook or Twitter accounts. Based on global statistics, Facebook and Twitter are the largest social media networks with millions of users to engage with. Additionally, Chatwing's shoutbox can efficiently support thousands of chatters. With users who don't want to join in large crowd of chatters, Chatwing team included a direct URL link feature for a more private chatting experience. This latest feature generates a username and shortlinks that a user can send to selected online users he wanted to engage with—thus a more focused discussion. Chatwing's free shoutbox has cute avatars and cool emoticons for effective expression of emotions.
Chatwing team also added another social feature: social sharing option. This feature allows a chatter to immediately post chat conversations that he deems important or witty. This feature keeps one social media account updated which in turns improve online visibility. This free chatbox is continually being improved by Chatwing team who is now on their third year in developing reliable chat applications.
Generally, not only avid chatters can benefit from using this free chat app. Niche bloggers and online marketers can experience the advantages of using Chatwing's enhanced chat tool for as a communication leverage. In the coming months, the Chatwing team expects a larger influx of subscribers as the company's online expansion progresses.
About Chatwing.com
Chatwing.com specializes in the new field of website chat. Over years, the Chatwing team has introduced live chat box for hundreds and thousands of blogs. The Chatwing application bridges people from many parts of the world, creating global synergy through the Internet. The shout box can be installed in just seconds, and it can be used for varying purposes such as leisure and Internet marketing. It also allows a user to customize the size, color, and name of the widget. Chatwing is 100% free for everyone.