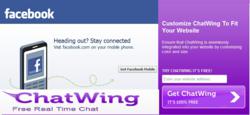 San Antonio, TX (PRWEB) August 31, 2012
Facebook gamers, especially those with blogs, can now use Chatwing's latest chat box to gather tips, make new friends, and make their games more interesting than ever. According to the research of the Chatwing team, Facebook gamers take up a large portion of the social networking site. Up to date, there are thousands of active Facebook games played in many parts of the world. The Chatwing team is willing to extend a helping hand in terms of web communication through its chat box. The Chatwing app is capable of social media integration, direct link URL, unlimited chat box creation, and full admin conversation control.
Chatwing's new and free chat box has social media integration, allowing people to log in with their Facebook or Twitter accounts. This feature is crucial for people who want to expand their social networks. Facebook entrepreneurs have already started using the Chatwing chatbox in strengthening their market positions. Facebook, gamers on the other hand, have benefited from this feature because they were able to join support groups created by other people.
The free chat widget may appear as simple as it is, but this rate of simplicity has contributed to its overall high ranking. It has a purple theme that is relaxing to the eye, according to thousands of bloggers who have used the chat app. If users don't want purple, they can modify the chat software and create any colors they like. Users can also make unlimited chat boxes, especially if they are maintaining two or more blogs and websites. However, the recent feature—direct link URL—has created a strong buzz around Chatwing. This feature allows users to create their unique usernames and shortlinks; they can now send the shortlinks to their friends and acquaintances, allowing private group chats.
The Chatwing team believes that Facebook gaming will remain a very important part of the Internet. Since the developers of Chatwing believe in global synergy, they will pursue the creation of advanced chat widgets that can bring new communication experience to everyone. To keep the passion burning, the Chatwing team currently maintains a series of blogs all over the web. These blogs are often filled with updates and news about the Chatwing app.
About Chatwing.com
Chatwing.com specializes in the new field of website chat. Over years, the Chatwing team has introduced live chat widget for hundreds and thousands of blogs. The Chatwing application bridges people from many parts of the world, creating global synergy through the Internet. The shout box can be installed in just seconds, and it can be used for varying purposes such as leisure and Internet marketing. It also allows a user to customize the size, color, and name of the widget. Chatwing is 100% free for everyone.