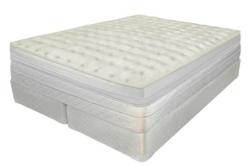 It's our pleasure to celebrate Labor Day and our new store locations with this special sales event[...] We look forward to serving new local and international customers[...]
Miami, FL (PRWEB) August 27, 2012
In honor of Labor Day, Selectairbeds.com announces a special sale on premium air bed mattresses and adjustable bases. In what's shaping up to be the biggest specialty bedding event of the year, the Select Air™ Labor Day Sale offers deep discounts of up to $1,000 off all air bed mattresses. There has never been a better opportunity to experience the serene comfort of a firmness-adjustable air bed, as each purchase comes with free shipping, no taxes, and a complimentary 30 day at-home Sleep Trial.
Hailed by customers as a more affordable Sleep Number alternative, the Select Air™ company is founded on a simple premise: Everyone deserves the opportunity to own a luxury air bed that will last a lifetime at a reasonable cost. The cost of owning a firmness-adjustable air bed is lower than ever this Labor Day as Brickell Mattress, the official home of Select Air, prepares to open new locations in Boca Raton and West Palm, Florida. In preparation for the long anticipated expansion, the companies aim to move all air bed inventory by Labor Day.
"It's our pleasure to celebrate Labor Day and our new store locations with this special sales event," says Matt Byrd, Select Air Owner and Brickell Mattress Media Relations Manager. "South Florida is a great place for our company to call 'Home.' We look forward to serving new local and international customers through Selectairbeds.com as well as our new Brickell Mattress locations."
Select Air beds deliver uncompromised quality through a more-for-less value proposition that is designed specifically for individuals who want a specialty sleep solution that will not cost a fortune. Each premium Select Air mattress is carefully constructed to ensure longevity, precision, and exquisite comfort. When compared to other luxury brands, Select Air mattresses feature a more durable construction that maximizes surface comfort while also promoting a healthier night's rest.
At the core of each Select Air mattress is an air chamber constructed with premium Vulcanized rubber, a leading rubber composite that exhibits superior durability and resilience compared to ordinary rubber. When it comes to health and safety, Select Air is second to none. Each mattress features a special moisture barrier to prevent the formation of mold and mildew inside the air chamber—a feature that most other brands do not offer.
Select Air™ Company Information
Selectairbeds.com is the largest online retailer of premium air bed mattresses and adjustable bases. Each Select Air product is rigorously tested by the quality control team at Brickell Mattress, South Florida's largest retailer of specialty sleep solutions. This Labor Day, log on to Selectairbeds.com to save up to $1,000 on any premium air bed mattress. For additional information and purchase assistance, contact Select Air customer services at 1-888-391-5390.
Brickell Mattress: The Official Home of Select Air™
Brickell Mattress proudly represents South Florida's largest and most comprehensive collection of specialty sleep solutions. In addition to being the official home of Select Air™, Brickell Mattress features an unparalleled selection of memory foam mattresses, latex mattresses, and contemporary waterbeds. Brickell Mattress proudly offers the Couture Collection, an extraordinary line of Vi Spring beds and Carpe Diem beds that have been meticulously selected for those who desire the finest in personalized sleep solutions.
South Florida residents are invited to contact a Brickell Mattress Sleep Expert for a complimentary sleep consultation. For an exclusive Couture Collection showing, please contact Brickell Mattress at 305-326-4000.
Brickell Mattress is conveniently located at 1030 8th Street, Miami, FL 33130.