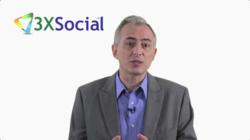 We're offering the best bonus available to compliment this groundbreaking social media marketing course by Don Crowther.
Scottsdale, AZ (PRWEB) August 27, 2012
3XSocialFormula.com has announced a new 3XSocial bonus package that includes a brand new iPad 3 in addition to several exclusive bonuses designed to make this popular social media marketing course even better.
Don Crowther's course has generated a lot of buzz because it's one of the first social media marketing courses that cuts through hype and focuses on three social media marketing strategies that have been proven to generate a positive return on investment.
3XSocial is designed to only take ten to fifteen minutes a day, which may come as a welcome relief for anyone who has tried to make social media work for them but found traditional methods to be time consuming and largely ineffective at turning visitors into fans and fans into paying customers.
The course is designed for business owners, entrepreneurs, social media consultants, marketers and anyone else who wants to learn how to quickly and effectively generate leads and sales from social media.
"One great aspect of this course that you won't find anywhere else is the 3XSocializer software that makes effective social media marketing ridiculously easy to automate." said Ayers of 3XSocialFormula.com
Those interested in using 3XSocial to get social media marketing to work for them should visit the official site here.
Those interested in obtaining the iPad 3 and other valuable bonuses should visit http://3XSocialFormula.com to claim their bonuses today.