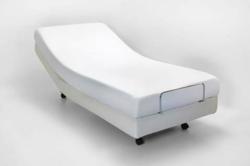 San Francisco, CA (PRWEB) August 27, 2012
The all-new Reverie adjustable bed has just been released, and it's better than anticipated. User-friendly, fully compatible with iPhone and iPad devices, and just as comfortable as ever, the new Reverie Deluxe Bed is sure to please anyone with a desire for a premium sleep solution at an affordable price. The Deluxe Bed by Reverie is now available on Adjustabeds.com starting at just $899. And with the Adjustabeds Promise™ for free delivery and a lifetime of in-home service, it's hard to find a better deal on a luxurious adjustable sleep solution this fall.
The Deluxe features all the bells and whistles that are most desired by today's tech savvy consumers, including wireless remote, smartphone and tablet integration, luxurious massage settings, independent head and foot adjustability, and best of all, a built-in power outlet that may also be controlled by mobile device. Bed owners may plug televisions, lamps, or other bedroom appliances into bed frame's built-in power outlet and conveniently control them from Reverie's exclusive iPhone or iPad app (available for purchase through Apple iTunes App Store). WiFi and Bluetooth technologies enable wireless connectivity between bed frame and mobile device, both of which come standard.
Hailed as a breakthrough in affordable bedroom automation, the Deluxe redefines what it means to spend a relaxing evening in bed. Deluxe bed owners are free to surf the Web, adjust bedroom lighting, and fully control the function of their bed frame, all while comfortably tucked in bed.
Those who do not own an iPhone or iPad are not left out, however. Reverie has unveiled a new wireless remote control kit to help everyone get the most out of their adjustable bed, without the need for a mobile phone or tablet device. The new wireless remote is backlit to make it more visible at night, and it comes with therapeutic pre-programmed settings to help ease users into a state of complete relaxation. The most talked about of those settings: Zero Gravity Position. Standard with each Deluxe bed, the pre-programmed Zero Gravity Position holds the body in position of least resistance to gravity and creates a "weightless" feeling that sore backs, arthritic hips, and tired minds will all enjoy.
Deluxe bed owners also receive special health benefits simply in virtue of sleeping on an adjustable bed. Sleeping with the upper body inclined by 4 to 6 inches is one of the most common doctor-recommended solutions for preventing sleep apnea, and an adjustable bed frame is the best product to attain such a position. This position helps to keep the airways clear during the night, making it an effective way to prevent chronic snoring as well. You do not have to suffer with sleep apnea or snoring to benefit from sleeping in an adjustable bed, however. Resting in Zero Gravity Position enhances blood flow and reduces pressure build-up along the lower back and hips, which is a health benefit that everyone can enjoy.
Adjustabeds.com now offers the new Reverie Deluxe in all standard bed frame sizes, ranging from Twin to California King. Split-frame designs are also available to give couples the ability to have their own personal mattress and sleep settings. Adjustabeds.com is the largest online retailer of premium adjustable beds, offering unbeatable pricing on Leggett and Platt adjustable bed bases, Select Foam™ memory foam mattresses, and a variety of other specialty sleep products. Each online order also receives free shipping, a 30 day At-Home Sleep Trial, and the Adjustabeds Promise™ for a lifetime of in-home service and maintenance.
Readers are invited to contact the Sleep Experts at Adjustabeds.com toll free 1-877-535-1159. Or, browse adjustable bases and premium mattresses online by visiting the Adjustable Beds online store.