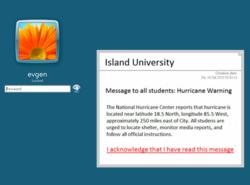 Our research really highlights just how easily emails and other traditional forms of PC-based employee communication can be missed thanks to the high proportion of users locked out of their machines at any one time
Alexandria, VA (PRWEB) August 28, 2012
DeskAlerts, the employee communication tool which allows organizations to deliver any type of content to any network within their infrastructure, has added a unique locked screen alerts functionality for critical and time-sensitive employee communications.
According to research conducted by DeskAlerts, at least 27% of PCs are in locked-screen mode at any given time. This is often a result of corporate security policies which log the user out of the machine automatically after a set period of inactivity. Using the new DeskAlerts locked screen tool, messages can still be delivered to the locked PC even if the user has been logged out for security purposes.
DeskAlerts CEO, Vassily Salomatov said, "Our research really highlights just how easily emails and other traditional forms of PC-based employee communication can be missed thanks to the high proportion of users locked out of their machines at any one time. The new DeskAlerts locked screens add-on is a comprehensive, efficient and functional answer to this problem and is specifically useful when communications managers need to deliver critical information such as important notifications or emergency alerts."
Alert delivery to locked screens is an add-on for the standard DeskAlerts editions. It can additionally be configured for use with new version of DeskAlerts. Users can simply choose to install the feature during the software installation process for immediate locked screen alert capability.
The locked screen functionality is one of a series of recent developments introduced by the entirely web based employee communication tool. It follows on from the launch of an RSS add-on and video recording functionality earlier this month. Initially developed as an alternative to email communication, DeskAlerts provides one-way messaging between a central terminal and all desktops within the network. Messages are delivered as highly-visible alerts in pop up windows or streamers, making them an efficient way of communicating with all employees. Messages can be sent to selected desktops, user groups or individual machines.
To find out more about DeskAlerts, visit http://www.alert-software.com
About DeskAlerts: DeskAlerts is the only alert solution that works in technologically and geographically diverse networks. It is a completely web-based solution that can be used to send desktop alerts and news updates to any employee within your organization, improving communications and productivity with a more efficient communication strategy than traditional email alone.