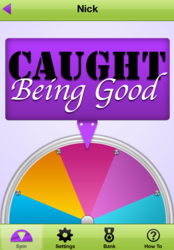 "This app is a great tool to keep learning on track and promote a positive environment." says the app's creator, Dawn Nichols. "Having 2 kids of my own, I've seen first hand how well children respond to positive reinforcement in the home and classroom."
Florham Park, NJ (PRWEB) August 28, 2012
Back to school time is upon us once again and that means frazzled mornings and chaotic evenings. At the beginning of every school year parents say the same things, "This year I'm going to be organized. This year homework will get done right after school. This year will be different." One new tool that will help you stick to your plan is the Caught Being Good app. It can be downloaded from the app store.
The Caught Being Good app uses positive reinforcement to promote desirable behavior. It's a tool to reward kids when they do something right, thereby increasing the likelihood that they will repeat the act. Positive reinforcement of desirable behaviors is scientifically proven to be the most effective means of influencing behavior – much better by far than using punishment to eliminate bad behavior. Plus, excessive use of punishment breeds resentment and hard feelings. It's much better to have children wanting to be good than afraid of being bad.
"Start using the app first thing in the morning." suggests Dawn Nichols, the app's creator. "Even a child who doesn't rise well is apt to get out of bed on the first day of school. Reward them for that and they will more likely do it again the next day. Do you have a dawdler? Ask them to be ready 15 minutes early and when they make it out the door on time, spin the wheel. If your child fusses at even the thought of brushing teeth or hair, be sure they get that positive reinforcement when they do it without complaining."
The free Caught Being Good app is also a powerful tool for teachers and child care providers. It can be used in the classroom, home school, and other child care settings. Educators can get in the same bad habits as parents, focusing on the negative. Using the Caught Being Good app as part of the educational program will keep student and teacher focused on the positive. One good feature of the app is its flexibility. The rewards can be easily customized by age, gender, and environment. For example, a typical reward at home might be "choose the next meal," while in a classroom setting a teacher may use "be the line leader."
When positive reinforcement is used in the classroom, students want to participate and students who are involved in the learning process are far more likely to internalize material than students who don't. "This app is a great tool to keep learning on track and promote a positive environment." says Dawn Nichols. "Having 2 kids of my own, I've seen first hand how well children respond to positive reinforcement in the home and classroom."
Keeping things positive will reflect on the atmosphere of both the classroom and the home. Back to school should be a wonderful time for both adults and children. Any tool that helps make that happen is very welcome at this time of year.