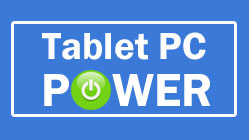 The manufacturers do not always want to hear bad news
(PRWEB) August 31, 2012
More tablet computers hit the market every day. For buyers, it can be confusing to find one that suits their needs. It is even harder considering it is difficult to find unbiased reviews on the web. Every make and model has its fans that cannot help but talk up the products they love.
The team at TabletPCPower.com have recently given a written guarantee that their reviews will tell it how it is and not take sides. A bad tablet PC is exactly that and needs to be reviewed as such.
A tablet is becoming more and more a part of everyday life. They used to be mostly for gaming and surfing the web but more often we are seeing them turn up at our workplace, in stores, in hospitals and other serious niches. Work tablets need to be a buy it once affair, a company can't stop because a tablet goes down so good advice is critical.
Gina Prescott the editor in chief has confirmed that they are not concerned by what the manufacturers think of the site. "The manufacturers do not want to seer bad reviews. If that is the case then they should only put out good products. We are not here to bump up their profits. We are here to let our users know the full details on the products we review and report on."
This style of editorial seems to be paying off as "Tablet PC Power" is one of the fastest growing sites in the tablet niche. The niche can be broken down into two broad niches, Apple and Android and this sites willingness to span both is what seems to be giving it the edge.