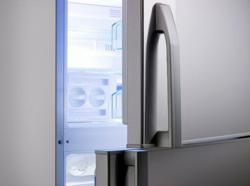 Scanning, in general, is at the leading edge of the technology of metrology....
(PRWEB) August 28, 2012
An ISO 17025 certified third party inspector, 3D Engineering Solutions announced the recent completion of a project that used scanning technology to verify the accuracy of plastic injection molded refrigerator parts. While most third party inspectors still employ a fixed based Coordinate Measuring Machine (CMM) to inspect parts, 3D Engineering now uses scanning for most inspection projects (including First Article Inspections—FAIs—and Production Part Approval Processes—PPAPs)—a method that captures millions of data points for part inspection rather than just hundreds. Vice President of Operations at 3D Engineering Solutions Rob Glassburn said, "Scanning of the refrigerator parts allowed us to gain greater qualitative information than the previous technology allowed. Scanning, in general, is at the leading edge of the technology of metrology, and most companies do not have the knowledge or equipment to do this."
Scanning allows inspectors to ascertain a more realistic image of the parts in question and do so in a shorter amount of time than CMM probing. Scanning also provides increased qualitative information, allowing design and manufacturing engineers to improve part appearance and function. A higher level of quantitative data is also possible through scanning. Glassburn said, "A fixed CMM only gives a simple number and that is only a small sampling of the feature measured, which could misrepresent the actual feature size or characteristic. With scanning, one can saturate all of the surfaces with millions of data points and avert common issues caused by simple CMM probing."
About 3D Engineering Solutions:
3D Engineering Solutions is registered with the State of Ohio for Professional Engineering and is ISO 17025 certified for third party inspection. In their seventh year of operation, the company maintains a state-of-the-art, climate controlled metrology lab, servicing OEM needs for FAI / PPAP inspection, 3D laser scanning, data collection, 3D CAD modeling, and reverse engineering services. Customers rely on 3D Engineering Solutions to design process tooling and fixtures for the automotive, industrial, green energy, nuclear and aerospace industries, using engineering tools such as Siemens advanced NX7.5 Mach 3 CAD platform. Leading edge point cloud software, InnovMetrics PolyWorks, allows a common software platform for collecting data across all of Faro laser-based data collection platforms. 3D Engineering Solutions brings more than 100 years of collective experience to every engineering project. For more information about ISO 17025 services or PPAP / FAI inspection, or for general information about 3D Engineering Solutions, call 513-771-7710 or visit the company's website: http://www.3D-engineering.net.