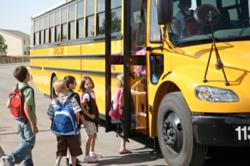 At FrontPoint we've dedicated years to developing the best methods for protecting homes and families. We hope these tips help you ensure a safe and trouble-free school year.
McLean, VA (PRWEB) August 27, 2012
As the start of a new academic year approaches, FrontPoint Security, the nationwide leader in wireless home security, has released its list of Top Ten Back-to-School Tips. This list helps parents ready their children for the upcoming change in daily routine, keeping a watchful eye on family safety.
#1 CONTACT INFO
Make sure your child has memorized their key address and phone information. Don't forget area codes with the phone numbers, and include home, 911, your work, and a secondary trusted adult, for back-up. Equip your child with a cell phone, telephone calling card or enough change to make a call.
#2 WALKING SAFETY
Plan a walking route to school or the bus stop, and practice it with your child. The ideal route has limited street crossings and crossing guards at intersections. Try to use the buddy system so your child has a walking partner. Remind them to obey all traffic signals, signs, traffic officers and safety patrols. Children who bike should wear helmets.
#3 AVOID DANGEROUS AREAS
Caution your child to stay within view of adults and avoid remote sections of parks, vacant lots, fields, parking lots, etc. Teach kids to stay alert and be aware of their surroundings. If your child walks alone, have him or her practice blowing a whistle and yelling "Fire!" if they're threatened.
#4 REPORT ABUSE
Kids have rights, too, so teach your child about theirs. Children can be easily intimidated, but you can instill them with confidence, letting them know they can come to you if something is wrong, without fear of punishment or embarrassment. They should immediately report inappropriate touching and verbal or physical abuse, regardless of whether the abuser was an adult or another child. If an issue arises, your children should go to the school principal's office and ask to call their parents.
#5 NEVER TALK TO STRANGERS
This oldie-but-goodie is especially important these days. Teach your child never to talk to strangers or accept rides or gifts from anyone they don't know and trust. However, they should also know there's an exception to this rule, when they need help and no one familiar is around. Teach them to identify "authority strangers" – near-by adults serving in an official role in the area, like teachers, store clerks or security guards.
#6 COMPUTER SAFETY
Computer equipment should be monitored and equipped to block access to explicit sites, both at home and at school. Teach your kids to be cautious about making "new friends" on the Internet, and make sure you know what sites and information they're viewing. Precautions against cyber-bullying should be on your children's school's agenda as well.
#7 HOME ALONE
If your children are scheduled to be home before you return from work or errands, there are several rules to help keep them safe until you're there. Before they even enter the house, make sure they know to be suspicious of warning signs like an open door, a broken window or a ripped screen. When safely inside, they should immediately check in with you or a neighbor. Establish a routine for locking doors and windows, using the alarm system, and answering the door or telephone. Remind them never to let anyone into the house without asking your permission and never let a caller know that they're alone. Always have a back-up plan for unexpected early school dismissals.
#8 KNOW THE ROUTINE
Know your child's daily routine every day and scheduled locations before, during and after school. This information is crucial in instances of abduction. Encourage your children to share schedule changes in advance, and be flexible and supportive of the changes so they're always comfortable keeping you in the loop.
#9 REVIEW SECURITY MEASURES
As you encourage your children to share all security-related details with you, make sure you reciprocate. Describe the measures you've already taken to ensure their safety and security. Explain the investment you've made in deadbolts, motion lights and an alarm system, setting their minds at ease and reinforcing your focus on safety. This knowledge will help remind them to take their own security measures at home, like locking doors and setting the alarm. Review emergency plans in case of fire, accidents or gas leaks, and be sure those plans include an organized list of phone numbers and contacts.
#10 HOME SECURITY SYSTEMS
The FBI reports that there is a burglary in the U.S. every 14 seconds. However, homes with security systems are only one third as likely to experience a break-in as homes without. If you're focused on safety, consider augmenting the tips listed above with a monitored home security system. The safest systems are wireless, with cellular communication between the monitoring center and the control panel. If you're away from home often, be sure you can interact with your security system remotely. Interactive features include instant notification when your child arrives home from school. Choose a system with mobile apps and email alerts. You may also want to consider adding video monitoring, which will actually let you see inside your house, no matter where you are. Also remember that fires and floods can be as devastating as burglary. To ensure complete safety for your home and family, choose a solution that includes sensors for heat, smoke, water leaks or flooding, freezing temperatures (for pipes) and even carbon monoxide. Learn more about available home security system features here:
http://www.frontpointsecurity.com/community/home-security-system
"Your children are priceless, and so is your peace of mind," said Peter Rogers, co-founder and COO of FrontPoint Security. "At FrontPoint we've dedicated years to developing the best methods for protecting homes and families. We hope these tips help you ensure a safe and trouble-free school year."
About FrontPoint Security
FrontPoint Security is the leading nationwide provider of interactive, wireless home security systems. FrontPoint combines next-generation technology with remarkable simplicity and commitment to service, resulting in a safer and unique customer experience. With customers in all 50 states and Canada, FrontPoint Security is one of the fastest growing alarm companies in North America. FrontPoint is a GE Security Authorized Dealer and Alarm.com's Preferred Dealer for no-hassle security solutions. For more information, please visit http://www.FrontPointSecurity.com or call 855.296.3945.
Media contact: Cassandra Dobkins, media (at) fpssi (dot) com