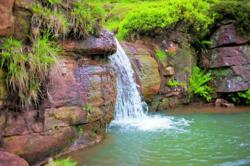 Wonderful waterfalls which keep themselves well hidden
Peak District, UK (PRWEB UK) 28 August 2012
"As a visitor or a resident to the wonderful world of the Peak District National Park, hidden watery gems are waiting to be discovered," explains Steve Wake, one of the directors of the family run company http://www.peakdistrictonline.co.uk. Living and working in Derbyshire means he is passionate about the Peak District and his team of experts source all the latest Peak District news and information on behalf of holiday accommodation owners every day.
They also specialise in providing visitors arriving to this wonderful part of the world, a resource full to bursting with places to go and things to see. The latest page added to the UK's largest Peak District holiday accommodation directory, is dedicated to the wonderful waterfalls and carefree cascades of the area.
"When visitors arrive to the Peak District for their holidays or even if they're simply spending a day trekking through the countryside on their weekends, there's so much more to the Peak District than moors that stretch for miles, dales to traverse and grit stone edges to climb," he explains. "Not a lot of people know about the numerous waterfalls we have in the area and our new page has picked out the most popular and easily accessible, but also those wonderful waterfalls which keep themselves well hidden."
Steve is a budding photographer and both he and his fellow director, James Dobson, are as passionate about their photography as they are about their dedication to Peak District Online. Between them they cover Peak District landscape photography as well as the wonderful flora, and fauna of this beautiful area in the new wildlife pages. The new section catering to waterfalls is informative, interesting and promises lots more pictures to come featuring the waterfalls of the area.
"When we started our website several years ago, it was a small family run business directory, listing the various types of holiday accommodation covering the Peak District area," James explains. "But we haven't rested on our laurels. We're constantly encouraged by our huge list of a holiday accommodation owners, providing us with lots of information about the area their cottage or bed and breakfast, hotel or Holiday Park is situated. We soon realised the website would encompass so much more. Our pages have grown and grown and the Peak District waterfalls page is just a drop in the ocean, if you pardon the pun!"
With over 200,000 people visiting the site each month, Peak District Online is a monster of a website and provides its audience with facts, figures and fun filled pages dedicated to all that is Peak District.
"We've highlighted the main waterfalls, but also those which have not only been here long before we were born. We have those which have a touch of magic about them too," laughs Steve. "We're home to waterfalls which are sometimes here and sometimes not, and then we have those which magically disappear underground and then resurface further down the river."
Peak District waterfalls is just launched and open for viewing at the very busy and bustling website that is http://www.peakdistrictonline.co.uk