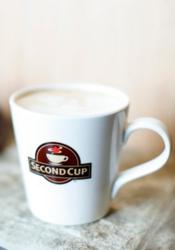 Mississauga, ON (PRWEB) August 28, 2012
The Second Cup Coffee Company Inc. ("Second Cup International") the privately owned franchisor of the Second Cup café concept outside Canada, announced that it has achieved same café sales increase of 4.7% across its international regions in the six months ending June 30, 2012. This compares to an increase of 4.6% for the same period in the prior year as reported by its Franchise Partners.
Jim Ragas, president of Second Cup International stated that "our franchise partners reported that our same café sales growth came from increases in transactions and guest counts in most of our international regions. Additionally, our ongoing menu innovation and a solid promotional calendar contributed to our strong growth. We are excited about the successful implementation of our frozen yogurt program that has met with an enthusiastic response by our franchise partners and guests. I am pleased to report this positive same café sales growth, building on the same café sales increase of 7.2% for the recently completed 2011 calendar year. As we move into the second half of 2012, we are focused, along with our franchise partners, on sustaining and growing café sales as well as café expansion."
"We also made significant progress in accelerating the rate of our global expansion in the first half of the year, with the opening of 10 new cafés by our franchise partners. This is a result of the enthusiasm of our franchise partners in growing Second Cup in their regions. Additionally we have signed three new regional franchise agreements, for café openings later this year," Ragas reported.
About Second Cup International
The Second Cup coffee café concept originated over 37 years ago in Toronto, Canada. Second Cup International's expansion started in 2003 and has opened cafés in Abu Dhabi, Bahrain, Cyprus, Dubai, Egypt, Jordan, Iraq, Kurdistan, Kuwait, Lebanon, Morocco, Oman, Qatar, Romania, Saudi Arabia, Syria, Taiwan and U.S.A. Second Cup café operators are committed to serving the best coffees in the world in an inviting ambience with uncompromising standards of customer service, product quality and freshness.
About Second Cup
The Second Cup Coffee Company Inc., a privately owned Canadian company, of Mississauga, Ontario, Canada, is the owner of the international trademarks and rights for Second Cup outside Canada. Second Cup International's 78 cafés are located in 18 regions internationally. Second Cup cafés offer a variety of innovative and exclusive blends, espresso-based beverages and iced drinks, frozen yogurt smoothies & parfaits, signature foods, indulgent treats and premium beverages in a warm and comfortable setting. Second Cup is actively seeking new regional franchise partners for additional countries.
-30-
For more information, please contact Jim Ragas, President International, The Second Cup Coffee Company Inc., at (phone) +1.905.234.0315 or e-mail jragas(at)mysecondcup(dot)com. Learn more at http://www.mysecondcup.com.