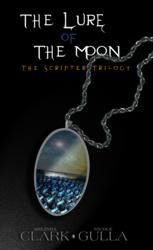 " Being able to debut this story in its rawest form, without it being subjected to countless alterations, is beyond rewarding. We couldn't get the characters and their story out of our heads - it became infectious and we knew that it had to be told"
Sugar Hill, GA (PRWEB) August 29, 2012
The Lure of The Moon is told from eighteen-year-old Ava Baker's perspective. This fantasy romance novel is a page turner for young adults and adults alike that will keep you guessing until the very end. Men and women will be drawn to its thrilling adventurous nature, while also being captivated by the endearing romance between the two main characters.
This novel embarks on an electrifying conquest through the perils of a forbidden romance and the enchantment of finding and fighting for the ultimate love. Collin and Ava are the Romeo and Juliet of the twenty-first century.
Book description: After uncovering and writing in a three-thousand-year-old book, Ava, escapes through a portal that she believes is nothing more than a vivid dream. Her urge to write isn't solely based on her journey, but also by an alluring man named Collin, whom she meets between the pages. Their mutual unabiding affection has them bound to each other in ways much deeper than either one can explain. When Collin divulges secrets to Ava, and reveals that the book is being hunted by rival secret societies, it sends their relationship and Ava's life into a tailspin. The very thing that brought them together is also what threatens to tear them apart. Are Colin and the revelations only figments of her imagination? Or, is it all, a reality and her divine destiny?
The authors, Melinda and Nicole, met in 2005 when the two learned that Nicole's husband and Melinda were actually long lost cousins. Without knowing it, the cousins had been born and raised not far from each other in upstate New York and had moved to the state of Georgia at approximately the same time.
Melinda Clark was born and raised outside of Syracuse, in the town of Clay, New York. Nicole Gulla was born and raised in the village of Yorkville, outside of Utica, New York. They both reside in Georgia with their husbands and family, not far from each other.