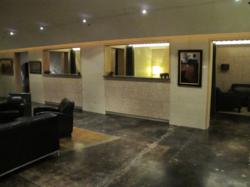 "The common trait is a love of sharing wine with other wine lovers."
Houston, TX (PRWEB) August 28, 2012
Wine connoisseurs in Houston will soon have another facility for storing and enhancing their collections. After less than three years in business, Nos Caves Vin is breaking ground on a second location, at 835 Frostwood, as a sister facility to its location at 2501 Wroxton. The Nos Caves Vin Frostwood located is scheduled to open early Fall 2012.
"I knew in my gut wine collectors would respond to our model even though it was completely new," said founder Jost Lunstroth. "We meet the tangible needs of wine collectors for proper storage and their emotional desire for a personal connection with other wine collectors. We have members that are experienced collectors who just want proper storage for their collections while others are just starting to build collections. The common trait is a love of sharing wine with other wine lovers."
Along with highly secure, climate-controlled wine storage, Nos Caves Vin offers members a variety of services to enhance their wine-collecting experience, including personal wine acquisition, collection management, collection appraisal and private, customized tastings.
The new Frostwood location will be larger than the Wroxton location and feature shallow barrel-vaulted ceilings, clay plaster finishes and White Oak millwork evoking the spirit of centuries-old French wine cellars mixed with modern lighting and furniture. State-of-the-art biometric and facial recognition security systems and redundant specialized refrigeration systems in the wine-storage area will protect the wines in lockers that range in size from 32-cases up to as large as any member needs. There will be one special locker – it will have its own exterior door allowing the member completely private access.
And, since fine wine and fine art go so well together, the facility will have large wall spaces for art pieces, which will be rotated every few months so that members always see and experience something different.
"Nos Caves improves our wine collecting experience. Knowing our wine is secure and ready for us at any time we want a taste provides peace of mind. Whether we enjoy it on site while taking in the beautiful art and ambiance, or at home, Nos Caves Vin adds another dimension to the wine," said Daniel P. McGuire, CPA.
Houston architect Walter Murphy of Murphy Mears AIA designed both the Wroxton and Frostwood locations. "Our design goal for the public spaces is to aspire to an understated elegance with rooms that appear familiar but innovative at the same time," Mears said. "The ambiance is both serious and a little whimsical, all to enhance the social setting for the users."