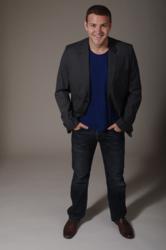 With a few simple tweaks to his strategy, any student can get much higher SAT scores almost instantly.
New York, NY (PRWEB) August 28, 2012
Millions of students every year take the SAT, and while a growing number of them realize the necessity of studying, few of them know where to begin. The SAT presents students with a dizzying array of material presented in a way that they've never seen before, and the act of beginning an SAT prep program can be extremely daunting. In an attempt to help students make more sense of their SATs, one SAT tutor has released a new, totally free guide which he hopes will give thousands of students a leg up on their SAT prep and make the process a bit less intimidating.
Anthony-James Green, the most talked-about, most recommended SAT tutor in America, has just released "100 Points in 100 Minutes" via his website. The guide's premise is simple: students who read the guide and apply its lessons for 100 minutes will improve their SAT scores by 100 points. When asked how such remarkable score improvements could occur, Green explained the philosophy behind the book in very straightforward terms:
"The SAT is half about material, half about approach. Students all have different levels of material mastery when they come into this exam, but they have an almost universally terrible approach. I'm not saying this as an insult - it's just that the SAT is a very strange, particular exam, and if students aren't using the exact, specific strategies required to ace it, they're going to have an incredibly hard time applying any of the material they know. I wrote this guide as a primer to help students improve their scores and start their study programs with a more powerful overall framework."
The idea behind "100 Points in 100 Minutes" is simple: if students can apply their knowledge to a good SYSTEM, they'll be able to improve their scores. Green urges students to think of every fact, trick, and strategy they learn as part of a larger overall system.
"This test is like nothing else on Earth," says Green of the SAT's peculiar style. "While the College Board says that the SAT tests students' basic high school academic abilities, a brief glance at the facts proves otherwise. Take Critical Reading as an example; if this test really just judges a student's ability to digest a passage, then why do so many A+ English students get such terrible SAT Critical Reading scores? Is it because they're not good at reading? No - it's because they don't have a systematic approach to answering the intentionally deceptive questions crafted by the SAT. This guide gives students a FRAMEWORK that they can use to simplify the process and improve their scores almost instantly. Furthermore, students can use the strategies within to enhance the effectiveness of all the future work they do on their test prep."
Parents and students looking to download Anthony's free guide can do so using his website here:
http://www.NewYorksBestSATtutor.com
Along with "100 Points in 100 Minutes," visitors will also receive free copies of Green's booking sheet and his other free guide, "9 Things Every Parent Needs to Know About the SAT."
"I hope that visitors to my site will find the guide helpful," says Green. "If parents encourage their students to read the guide thoroughly and apply its lessons, I can guarantee that they'll see instant improvements."
Anthony-James Green is the founder of New York's Best SAT Tutor and Manhattan's Best Tutoring, the president of Test Prep Authority, and the author of multiple books on SAT prep, including Own The SAT, The Perfect 12 Manual for the SAT Essay, Every College Question Answered, and the new online SAT vocabulary software Vivid Vocab. Green's methods have been taught to thousands of students all over the world, and he has personally tutored over 300 students with an average score improvement of over 350 points.
He'll be launching his new line of products, along with his new personal booking site in the next few weeks at:
http://www.AnthonyJamesGreen.com
Green lives in downtown Manhattan, where he works on his new line of test prep products full time when not working with his personal students.
###