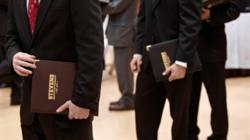 "Every year, Stevens graduates realize incredibly strong job placement outcomes and earn higher-than-average starting salaries."
Hoboken, NJ (PRWEB) August 27, 2012
Stevens Institute of Technology has been ranked 13th in the nation for "Best Career Services" by The Princeton Review in the 2013 edition of "The Best 377 Colleges," moving up one spot from the 2011 edition ranking.
The Stevens Office of Career Development supports students through career exploration programs, experiential education opportunities, individualized guidance, career planning workshops, corporate site visits, and a variety of on-campus recruitment efforts. The office maintains strong relationships with leading corporate, government and nonprofit employers, continually supplying top talent to join their ranks.
"Every year, Stevens graduates realize incredibly strong job placement outcomes and earn higher-than-average starting salaries," said Lynn Insley, director of the Office of Career Development.
Stevens is invested in developing graduates into engineers, scientists and business leaders who are capable of innovating technical solutions to solve society's most critical problems. The student educational experience is distinguished by tremendous opportunities for real work outside of the classroom, through paid and summer internships, research projects with faculty, and the renowned Cooperative Education program, in which 40 percent of the undergraduate study body participates.
The prestige and value of a Stevens degree was also recently recognized in Bloomberg Businessweek's 2012 ranking of the best colleges for return on investment, in which Stevens was named as one of the nation's top 25 schools.
In addition to recognition for top-notch career services, The Princeton Review also ranked Stevens 9th in the nation in the category, "College City Gets High Marks." The University's hometown of Hoboken offers a variety of options for shopping restaurants, parks and nightlife, and Stevens' historic and distinctive campus offers spectacular views of the Hudson River and the Manhattan skyline, which is easily accessible in only ten minutes.
Each year The Princeton Review identifies the country's best institutions for undergraduate education – with a primary focus on outstanding academics – based on surveys of current students. Schools selected for inclusion in "The Best 377 Colleges" guide represent approximately 15 percent of the U.S.'s four-year colleges.
"We are honored that The Princeton Review has once again selected Stevens as one of the nation's elite colleges and universities," said Maureen Weatherall, vice president for University Enrollment and Administration. "Our excellent career services and our beautiful Hoboken campus are just a few of the many outstanding qualities we offer to our student body."
About Stevens Institute of Technology
Founded in 1870, Stevens Institute of Technology, The Innovation University™, lives at the intersection of industry, academics and research. The University's students, faculty and partners leverage their collective real-world experience and culture of innovation, research and entrepreneurship to confront global challenges in engineering, science, systems and technology management.
Based in Hoboken, N.J. and with a location in Washington, D.C., Stevens offers baccalaureate, master's, certificates and doctoral degrees in engineering, the sciences and management, in addition to baccalaureate degrees in business and liberal arts. Stevens has been recognized by both the US Department of Defense and the Department of Homeland Security as a National Center of Excellence in the areas of systems engineering and port security research. The University has a total enrollment of more than 2,400 undergraduate and 3,700 graduate students with more than 450 faculty. Stevens' graduate programs have attracted international participation from China, India, Southeast Asia, Europe and Latin America as well as strategic partnerships with industry leaders, governments and other universities around the world. Additional information may be obtained at http://www.stevens.edu and http://www.stevens.edu/news.