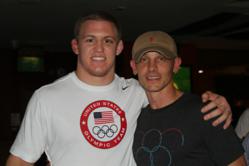 Dr. Rossi said, "I adjusted him, he straightened right out, and wrestled an incredible tournament."
Orlando, FL (PRWEB) August 27, 2012
Freestyle wrestlers Jake Varner and Coleman Scott, a pair of four-time NCAA All-Americans, each earned their place on the Olympic medal stand. Varner struck gold in the 96-kilogram (211.5 lbs.) weight class, and Scott persevered to win bronze in the 60-kilogram (131.5 lbs.) division.
Maximized Living doctors, the official chiropractors of USA Wrestling, worked to help the American athletes prepare for competition by providing sound fitness and nutrition advice in addition to specific spinal correction.
The 26-year-old Varner won four straight matches to become Olympic champion. His opponents managed to score a mere three points on him through those matches.
Scott lost by controversial decision to eventual gold medalist Toghrul Asgarov of Azerbaijan. Later, he rallied to a thrilling bronze medal victory.
The morning of Coleman's Olympic debut, he was evaluated by Maximized Living chiropractor, Dr. Fred Rossi. Dr. Rossi found significant biomechanical issues. Dr. Rossi said, "He had a huge C-D angle" – as seen on posture where a shoulder is very high and the head is tipped or angled. "I adjusted him, he straightened right out, and wrestled an incredible tournament."
"It wasn't the medal I wanted, but I couldn't leave with nothing," Scott said in an interview with NBC. "I would not be denied a medal."
Varner and Scott join fellow Americans Clarissa Chun and Jordan Burroughs as a fantastic-4 2012 medal-winners for USA Wrestling.
About Maximized Living
Maximized Living is a comprehensive health delivery system. It's a complete system for living utilized by a network of hundreds of chiropractors and associated health care leaders. These doctors incorporate the 5 Essentials™ to identify root causes of health issues, remove interference and allow patients to build health, rather than mask or treat problems with medications and surgery.
http://www.maximizedliving.com
For additional information, contact:
Evette Rivera, Director of Marketing
Maximized Living, Inc.
1420 Celebration Blvd, Suite 200
Celebration, FL 34747
321-939-3044
erivera(at)maximizedliving(dot)com