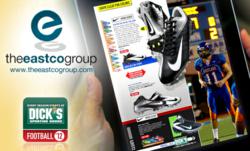 ...it's nice to see this app alongside other "App of the Week" names like National Geographic, Fast Company and Vogue.
Orchard Park, NY (PRWEB) August 30, 2012
The Eastco Group, an award winning digital marketing communications firm is pleased to announce that Adobe Systems has chosen Dick's Sporting Goods' Football 2012 Digital Catalog for iPad as an "App of the Week". The groundbreaking e-catalog was developed by The Eastco Group.
The app was specifically designed & developed for iPad 1 & 2, as well as optimized for the latest iPad equipped with HD Retina Display. The innovative project takes digital catalogs to a whole new level. The app came about through The Eastco Group's association with "Account One", the advertising agency responsible for originating Dick's Sporting Goods' Football 2012 iPad and print catalogs.
The 5-Star Rated app quickly climbed to a number eleven spot in the Apple iTunes Store in its category. Adobe stated "The app designers have used Digital Publishing Suite features in creative and even crafty ways… By integrating scrolling frames, nested overlays, and navigation buttons, they provide extensive product information within a single page, allowing readers to compare items side by side, instead of flipping from one page to another." The app also has analytics for tracking what content drives sales. Holt Vaughn, CEO of The Eastco Group said "Adobe is a great company and it's nice to see this app alongside other 'App of the Week' names like National Geographic, Fast Company and Vogue. Tablets are now everywhere and this project was about utilizing this new interactive format. We began with the client's outstanding print design and sought to raise the bar to set a new standard for digital catalogs. The Eastco Group is always forward thinking for our clients and it was exciting to work with the fine people at Account One and Dick's Sporting Goods."
The Dick's 2012 Football Catalog app is interactive and shoppable, including over 50 pages of features:

Swipe through product colors, tap to activate technical info and pull out hidden tabs to discover even more gear.
Watch product videos right in the catalog from the best brands in the game.
Purchase products directly from the in-App Browser.
Access links to your favorite social media sites to talk about your purchase and the upcoming season.
Interact with photos of equipment & gear
Browse the newest cleats, gloves, helmets and more with the touch of a finger.
- Watch a demo video of the Dicks Sporting Goods Football 2012 e-catalog here
- Learn more about smartphone and Tablet apps, e-catalogs, e-magazines and media-rich e-books
- Download the free Dick's Catalog iPad App here
About The Eastco Group:
The Eastco Group has served Fortune companies, rock stars, best-selling authors, not-for-profits and small businesses with traditional and digital marketing communications and media since 1985. The Eastco Group communicates their client's value to the world through: Branding, Marketing & Creative Services | Advertising Campaigns, Media, PR, Promotions/Events | Video, Audio, TV Production | Website Design, Development & Strategies | Mobile & Tablet Apps | Printing & Packaging.
Learn more about The Eastco Group:
http://youtu.be/vMJ3JZj-0Ng
###