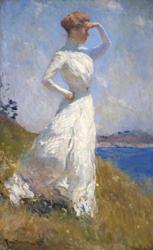 Rockland, Maine (PRWEB) August 27, 2012
The Farnsworth Art Museum, in Rockland, Maine, is pleased to announce that, due to the popularity of this summer's exhibitions, Impressionist Summers: Frank W. Benson's North Haven and The Homestead Project will be extended into December of this year. Impressionist Summers, a show of approximately seventy works examining how Benson's art was affected by his life on North Haven, will be on display through Sunday, December 30 and The Homestead Project which includes the works of ten architects and architectural designers will continue through Sunday, December 9. The third major Farnsworth exhibition, Jamie Wyeth, Rockwell Kent and Monhegan, will continue its scheduled run through December 30, 2012.
Impressionist Summers examines Frank W. Benson's long and productive career in the context of his life and work at his summer home, Wooster Farm, on the island of North Haven, Maine, thirteen miles off the coast of Rockland. It was there that he created almost all of his brilliant, sun-drenched paintings. The exhibition, organized by Guest Curator Faith Andrews Bedford, is made possible through the generous support of Ms. Faith Andrews Bedford and Mr. Robert F. Bedford, Mr. and Mrs. John D. Bertuzzi, Charles and Julia Bolton, Christie's, Lizbeth and George Krupp, Machias Savings Bank, Grant and Carol Nelson, Margaret L. Shaw, and Mr. and Mrs. David Webb. The primary media sponsor of this exhibition is Maine Home + Design.
The Homestead Project features the designs of principals of ten architectural and architectural design firms, including Henry N. Cobb of Pei Cobb Freed & Partners Architects. Participants were asked to design a fictional residence for a 2012 family based on that of William Farnsworth, a successful New England businessman, his wife and three young children who moved to Rockland in 1850. Participating architectural teams were asked to design a virtual "Farnsworth Homestead", taking into consideration the surrounding museum block all the while balancing elements of privacy with public exposure. This exhibition is made possible in part thanks to the generous support of A.E. Sampson & Son, Bench Dogs, Inc., Cold Mountain Builders, J.C. Stone, Inc., Marvin Windows and Doors, Thos. Moser Fine Furniture, Tidewater Millwork, and Windsor Chairmakers. The primary media sponsor for the exhibition is Maine Home + Design.